NEW YORK - Iranian President Mahmoud Ahmadinejad said Iran did not need nuclear weapons and his country was not heading for war with the United States, according to a television interview to be broadcast Sunday.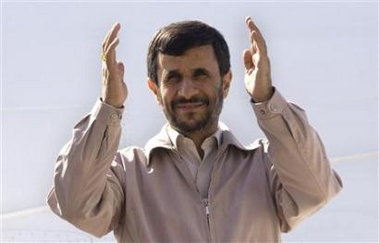 Iranian President Mahmoud Ahmadinejad waves to officials as he leaves for New York, from Tehran's Mehrabad airport, September 23, 2007. [Reuters]
Ahmadinejad was speaking before traveling to New York for the UN General Assembly. Plans for him to speak at New York's Columbia University have drawn protests from some who say the university should not give a platform to a Holocaust denier accused by Washington of supporting terrorism.
Asked whether Iran's goal was to obtain a nuclear bomb, Ahmadinejad told the CBS program "60 Minutes" that the answer was a "firm no."
"You have to appreciate we don't need a nuclear bomb. We don't need that. What need do we have for a bomb?" he said in the interview, recorded on Thursday in Tehran.
The United States accuses Iran of seeking to develop nuclear weapons under the cover of its civil nuclear program. Iran denies both allegations.
Asked whether Iran and the United States were heading toward conflict over Tehran's nuclear ambitions, he said: "It's wrong to think that Iran and the US are walking toward war. Who says so? Why should we go to war? There is no war in the offing."
In an interview with Al Jazeera television the head of US Central Command, Adm. William Fallon, also seemed keen to tone down the rhetoric. Asked if a war was on the cards, Fallon said: "No. I certainly hope not ... This constant drumbeat of conflict strikes me as not helpful and not useful."
Fallon's remarks to Al Jazeera were dubbed into Arabic.
Officials of the five permanent UN Security Council members and Germany met on Friday for what they called "serious and constructive" talks about new Security Council sanctions aimed at trying to force Iran to halt its uranium enrichment activities.
Ahmadinejad, who arrived in New York on Sunday for the UN General Assembly, reiterated Iran's position that its nuclear program is purely peaceful.
"Our plan and program is very transparent. In political relations right now, the nuclear bomb is of no use. If it was useful, it would have prevented the downfall of the Soviet Union. If it was useful, it would have resolved the problem the Americans have in Iraq.
"The time of the bomb is passed," he told "60 Minutes."
Ahmadinejad also took issue with US charges that Iran supports militants in Iraq, providing weapons and training, saying: "We don't need to do that."
Asked whether he was denying that Iran supplied weapons to militants in Iraq, he avoided a clear answer. "It's very clear the situation. The insecurity in Iraq is detrimental to our interests," he said.
Ahmadinejad, who has called for Israel to be wiped off the map, was denied a request to visit the World Trade Center site of the September 11 attacks.
He said in the CBS interview he would try to visit Ground Zero "if we have the time and the conditions are conducive." But he said he would not insist if conditions were not right.
In 2002, Bush labeled Iran as part of an "axis of evil" that also included Iraq and North Korea and has accused it of backing international terrorist groups.