TEHRAN - Iran on Saturday showed off a longer-range missile in public for the first time and proclaimed a string of anti-Israel slogans in a major military parade amid mounting tensions with the West.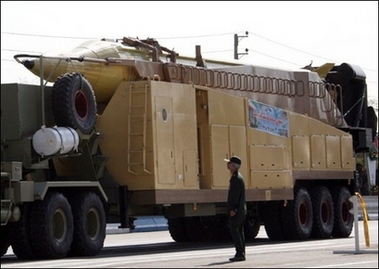 An Iranian soldier stands by as a new longer-range missile named "Ghadr-1" (Power) rolls by during an annual military parade in Tehran. Iran also proclaimed a string of anti-Israel slogans in the military parade amid mounting tensions with the West.[AFP]
The missile -- Ghadr-1 (Power) -- was said to be in development by Western experts, but its appearance at the climax of the annual military parade to mark the start of Iran's 1980-1988 war with Iraq was its first public showing.
The official announcer at the parade told reporters the weapon had a range of 1,800 kilometres (1,100 miles), sufficient to put US bases in the Middle East and Iran's arch enemy Israel within reach.
"The Iranian nation is ready to bring any oppressive power to its knees," reads a slogan from supreme leader Ayatollah Ali Khamenei inscribed on a massive board on a truck.
The missile, which has a "baby bottle-style" nose for extra aerodynamic efficiency, is seen as an improved version of Iran's existing longer-range Shahab series, which was also paraded.
Officials have said in the past that the Shahab-3 could reach 2,000 kilometres (1,250 miles), but the announcer said it had a 1,300-kilometre (800-mile) range.
The parade was marked by a litany of slogans calling for "Death to America" and "Death to Israel." Western military attaches, apparently warned of this in advance, boycotted the rally for the second year running.
"The Western attaches did not come. It was because of the slogans about Israel and the United States," said one foreign representative who declined to be named.
"Israel should be eliminated" and "No Iranian Muslim, no Muslim recognises Israel," were among the slogans borne on the back of military vehicles, quoting the words of Iran's revolutionary founder Ayatollah Ruhollah Khomeini.
"Israel has to be wiped off the map," read another Khomeini quote which aroused worldwide controversy when it was repeated by President Mahmoud Ahmadinejad in 2005.