Tokyo - Japan's ruling party on Sunday picked Yasuo Fukuda, who seeks warmer ties with Asian neighbours, to succeed Shinzo Abe as prime minister in an effort to revive party fortunes and fill a political vacuum.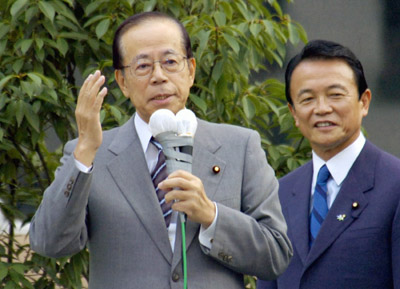 Yasuo Fukuda (L), flanked by another candidate LDP Secretary-General Taro Aso, delivers a speech during their stump speeches for the party election, in Sendai September 22, 2007. [Reuters] 
The Liberal Democratic Party's (LDP) main factions rallied behind Fukuda after Abe's resignation in hopes the 71-year-old lawmaker, seen as a competent moderate, can bring stability after a year marked by scandals and an election rout.
The bespectacled Fukuda, looking solemn, bowed to applause from LDP lawmakers and officials after the result of the vote was announced at the party's Tokyo headquarters.
Fukuda won 330 of the 527 valid votes cast against 197 for rival Taro Aso, a hawkish former foreign minister. There was one invalid vote.
He will be chosen prime minister on Tuesday by virtue of the ruling camp's huge majority in parliament's lower house, but he will face a boisterous opposition that won control of parliament's upper chamber in an election in July.
"The LDP is facing an extremely difficult situation and I want to work first to revive the party and win back people's trust," Fukuda said after the vote, referring to the upper house election loss.
Fukuda also faces conflicting pressures to spend more to woo disaffected voters while reining in Japan's mammoth public debt.
The split in parliament has raised fears of a policy deadlock at a time when Japan needs action on pensions and tax reform as a wave of retiring baby boomers add to welfare spending.
Critics of Fukuda, chief cabinet secretary under Abe's predecessor Junichiro Koizumi, say he will be beholden to the LDP's old guard, backpedal on vital economic reforms, and lack boldness on the diplomatic front.
Milder Style?
"I think Aso is a politician who would lead the country in a sound direction," said one man in his 40s attending a rally for Aso near LDP headquarters ahead of the vote on Sunday.
"Fukuda isn't. Aso would pursue the assertive diplomacy he implemented as foreign minister."
Fans say his milder style will be welcome after Koizumi's five years of combative reforms and 12 months of scandals and upsets under Abe.
Fukuda has pledged, as did Aso, to pay more heed to rural regions and other sectors hurt by reforms begun under Koizumi.
But he has also acknowledged the limits on government spending given a public debt already equivalent to one-and-a-half times Japan's gross domestic product.
Abe, who turned 53 on Friday, stunned allies and foes alike by announcing his decision to resign just days after staking his career on extending a Japanese naval mission in support of US-led military operations in Afghanistan.
One of the new leader's first battles will be over the naval mission, legislation for which expires on November 1.
Close-ally Washington is pressing Tokyo to continue refuelling coalition ships in the Indian Ocean, but Japan's opposition parties, which can delay laws with their upper house majority, want to end the mission.
Although an advocate of a less US-centric diplomatic stance, Fukuda -- like Aso -- has stressed the need for Japan to continue the mission.
Avoiding pitfalls that would prompt a snap election for the lower house that the ruling camp could well lose will be another priority for Japan's new leader.
No general election need be held until 2009. But a deadlock in parliament could prompt one and many are eyeing next spring, after passage of the budget for the fiscal year starting next April, as a likely time.