Baghdad -- The political movement of anti-US cleric Moqtada al-Sadr on Saturday announced its withdrawal from the ruling Shiite bloc United Iraqi Alliance (UIA) in parliament.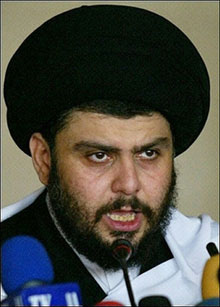 The movement of radical Shiite cleric Moqtada al-Sadr, seen here in May 2007, has said it would withdraw from the Shiite bloc that leads the Iraqi government, in a new blow to the faltering political process. [AFP]
"There has been no positive and clear responses from the United Iraqi Alliance over our withdrawal announcement," said Liwa Sumaysim, head of the political committee of the Sadrist Movement, at a press conference in the Shiite holy city of Najaf.
The withdrawal of Sadr's group endangered the already ramshackle ruling coalition head by Prime Minister Nuri al-Maliki, also a Shiite Muslim.
On September 4, Sadr's movement threatened to leave the main Shiite bloc, citing "the inefficiency of the coalition and the dominant influence of some parties on its decisions" are the main reasons behind its withdrawal.
The Sadrist Movement, which has 30 seats in the 275-member parliament, is the second largest component of the Shiite coalition, following the Supreme Iraqi Islamic Council of Iraq (SIIC) which has 36 seats.
Consisting of four main Shiite parties -- the SIIC, the Sadrist Movement, the Dawa party and the Fadhila party -- the UIA initially held 128 of the 275 seats in parliament.
However, the number dropped to 113 when the Fadhila party pulled out the coalition in March with its 15 seats. Sadrist Movement's pullout further withered the Shiite bloc, which would hold only 83 seats in the parliament.