KABUL - Negotiations to secure the release of 19 Korean church volunteers being held in Afghanistan by the Taliban have failed and the insurgents' leadership council are now considering their fate, a Taliban spokesman said on Saturday.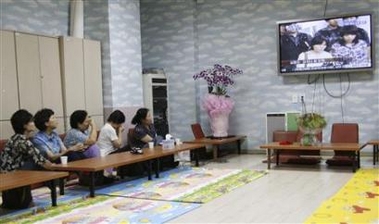 Seon Yeon-ja (2nd L), mother of Kim Ji-na and Park Seon-nyo (3rd L), mother of Kim Kyung-ja, watch the news on a television in Seongnam, south of Seoul, as the two Korean women who were kidnapped by the Taliban in Afghanistan, arrive at the Incheon international airport in Incheon, west of Seoul, August 17, 2007. Neg. [Reuters]
"The talks ended without any result and have failed as our main demand was not accepted," Qari Mohammad Yousuf told Reuters by telephone from an undisclosed location.
"I don't think (further) talks will yield anything. I am awaiting for the decision (on the hostages fate) from the leadership council," he said.
He said the talks between the Taliban and South Korean officials broke down last Thursday, the day they were reported to have started.
The Taliban on Monday freed two women hostages, the first to be released since they seized 23 Koreans from a bus in Ghazni Province on the main road south from the capital Kabul last month. They have killed two male hostages.
They have threatened to kill the remaining captives if their demand for insurgent prisoners to be freed from jail is not met.
President Hamid Karzai -- who came under sharp criticism for releasing Taliban prisoners in return for an Italian journalist in March -- has ruled out any swap of prisoners, saying that such a step would just encourage more kidnapping.
Seoul has repeatedly said it has no influence on Kabul to free jailed Taliban as an exchange deal for the hostages, most of whom are female. Koreans officials could not be reached immediately for comment in Kabul on Saturday.
Kabul has not ruled out use of force to free the hostages should talks fail. The Taliban have split the captives into several groups and have warned that any use of force would put their lives in danger.