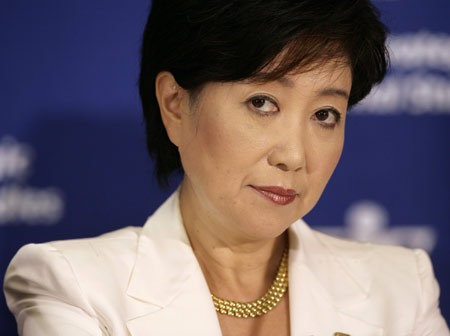 Japan's Minister of Defense Yuriko Koike listens to a question during a discussion U.S.-Japan alliance at the Center for Strategic and International Studies in Washington August 9, 2007.[Reuters]
Japanese Defense Minister Yuriko Koike "will not visit" the Yasukuni Shrine on August 15, the day Japan surrendered in World War II 62 years ago, Japanese press reports quoted her as saying yesterday.
The repeated visits by Japanese leaders' to the Yasukuni Shrine, which honors 2.5 million Japanese war dead, including 14 Class-A WWII criminals, have soured Sino-Japanese relations for a long time. They have also soured Japan's relations with its other neighbors, which were subjected to all kinds of atrocities by the invading Japanese army in the 1930s and 1940s.
Koike issued a statement to reporters at a hotel in Washington, DC, during her first
visit to the US since taking over as defense minister last month. She visited the Yasukuni Shrine on August 15 of 2004 and 2005 when she was the environment minister.
This year she "plans to visit Okinawa", a Japanese island where an intense battle was fought between Allied forces and the Japanese army during WWII.
Koike said she had not visited the shrine since taking charge of the defense portfolio on July 4.
On Tuesday, Japanese Prime Minister Shinzo Abe said he "had no comment" when asked if he would visit the shrine on August 15.
Local media say the majority of the Japanese government and the ruling party members believe Abe will not visit the shrine on August 15 despite his falling public support, because he is "committed to improving Tokyo's relations with Beijing and Seoul".
Sino-Japanese relations have improved after Abe assumed office and made an ice-breaking trip to China last October and Premier Wen Jiabao paid an ice-thawing visit to Tokyo in April.
China Daily - Agencies
(China Daily 08/10/2007 page2)