TOKYO - Prime Minister Shinzo Abe made an offering last month to a war shrine that many in Asia consider a symbol of Japan's past militarism, but he stopped short of a visit that would have damaged Tokyo's rapprochement with Beijing.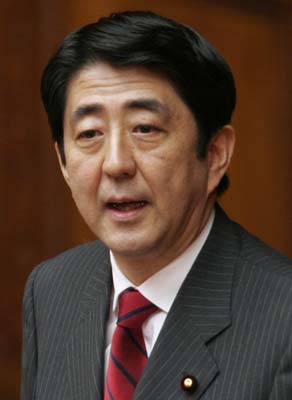 Japanese Prime Minister Shinzo Abe answers questions at the Lower House plenary session of the parliament in Tokyo May 8, 2007. [Reuters]
Abe's conservative supporters want him to pay his respects at Tokyo's Yasukuni Shrine for war dead in person, but China has made clear that doing so would threaten the turnaround in relations seen since he took office last September.
Abe offered a potted masakaki tree labelled with the words "prime minister" to mark Yasukuni's spring festival, a spokeswoman for the shrine said on Tuesday, adding he had not attended in person.
Japanese media reports said Abe paid the 50,000 yen ($420) for the offering of the tree -- seen as divine in the Shinto religion -- out of his own pocket.
China pointedly noted the sensitivity of the shrine issue. "The Yasukuni Shrine is a major and politically sensitive issue in China-Japan relations," China's Foreign Ministry spokeswoman, Jiang Yu, told reporters.
"China and Japan have already reached consensus on overcoming the political obstacle in bilateral ties, and this consensus should be effectively honoured."
In South Korea, a foreign ministry official described the shrine as something that "beautifies the past war of invasion," adding that it ran counter to "establishing an accurate perception of history."
COMPROMISE GESTURE?
But Japanese Foreign Minister Taro Aso told reporters he thought the gesture would have little impact on ties with China, which have improved markedly since Abe took office.
"I don't think it really matters," Aso said when asked about possible diplomatic fallout.
Visits to the shrine by Abe's predecessor, Junichiro Koizumi, sent Sino-Japanese relations to their lowest ebb in decades and angered South Korea.
Memories of Japan's military aggression before and during World War Two run deep in both countries.
The shrine honours several Japanese World War Two leaders convicted as war criminals by an Allied tribunal, along with millions of war dead.
Abe has sought to improve ties with China, which he visited last October shortly after taking office. Beijing is also keen to get relations between the two countries, whose economies are increasingly intertwined, on a firmer footing.
That stance was apparent during Premier Wen Jiabao's visit to Japan last month, the first by a Chinese leader since 2000.
Abe, who had paid his respects publicly at the shrine before taking office, probably viewed his gesture as a compromise, one diplomatic expert said.
"Basically, he thinks he should make pilgrimages to Yasukuni, but out of consideration for Sino-Japanese relations he has declined to say whether he would do so as prime minister," said Tomoyuki Kojima, a specialist on China at Keio University.
Abe faces elections in Japan's upper house in July that will test his governing coalition.