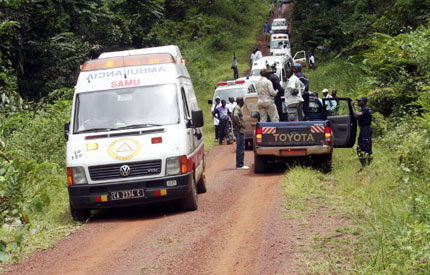 The rescue team searching for the Kenya Airlines plane missing in Cameroon is seen on a road in a thick forest between Mvengue and Lolodorf in south Cameroon May 6, 2007. The wreckage of a Kenya Airways plane that crashed with 114 people on board was found in a swamp a short distance from Cameroon's Douala airport on Sunday, officials said, but there was no word of any survivors. [Reuters]


MBANGA PONGO, Cameroon - A Kenya Airways plane that crashed after takeoff in Cameroon with 114 people on board is largely submerged in a swamp and there is no chance of survivors, Cameroon's civil protection service said on Monday.
The Boeing 737-800 vanished early on Saturday shortly after leaving Douala for Nairobi in torrential rain. The aircraft was found late on Sunday not far from Douala airport after nearly two days of fruitless searches in the south of the country.
Related stories:


 Signs found of jet downed in Africa


 Heart-broken relatives


 Search to resume for plane in Cameroon


 Wreckage of Kenya plane found


 5 Chinese identified in Kenya jet crash


 Kenya Airways jet crashes in Cameroon


 Kenya Airways loses contact with jet
"There are no chances that there will be any survivors because almost the entire body of the plane was buried inside the swamp," Jean-Pierre Nana, director of Cameroon's civil protection department and a member of a crisis working group set up by the prime minister, told Reuters.
The passengers and crew hailed from 27 nations.
Early on Monday, rescuers battled through swamps and thick forest to reach the wreckage after parts of the aircraft were found late on Sunday in a swamp, and locals reported making grim discoveries in the thick bush.
"I saw one body and one arm," resident Guiffo Gande told reporters in Mbanga Pongo village, an area of dense mangrove swamps some 20 km (12.4 miles) east of Douala.
"We also saw some seats and a piece of plane about the size of a car door," Gande said, adding that he had not seen the plane's fuselage, engines or tail.
The crash has again thrown the spotlight on air safety in Africa, the continent with the world's worst record.
It has also dealt a severe blow to the image of Kenya Airways, one of the most successful and modern companies in the east African nation.
Rescue efforts resumed near the village at daybreak.
Search aircraft flew overhead, as troops and police carrying gas masks and plastic bags gathered at the end of a muddy road and then hacked deep into the waterlogged forest.
"The crash site is about 4-6 kms (2.5-4 miles) from the end of this road," said local gendarmerie commander Emmanuel Meka, telling journalists they were allowed no further for now.
"Last night we saw lots of mud, but it was dark. So we do not know what we will see today."
Cameroon's state minister for territorial administration, Hamidou Yaya Marafa, said the rescue operation was entering a "new painful phase."
"Our task will be more difficult now, the task of recovering the corpses," he said late on Sunday.
The crash site is more than 100 km (60 miles) from where radar-equipped helicopters, ground search parties and villagers on motorbikes spent most of the weekend combing tropical forest.
Kenya Airways Group Managing Director Titus Naikuni said in Nairobi that local fishermen had led rescuers to the crash site.
He gave no details as to why the plane crashed.
Five Chinese identified
The six-month-old aircraft was carrying 105 passengers and nine crew, most of them African, with others from China, India, Europe and elsewhere. It had originated in Ivory Coast.

Five Chinese passengers have been identified as a Kenyan Airways aircraft they were traveling on went missing earlier Saturday morning, the Chinese Embassy in Cote d'Ivoire confirmed on Saturday.
Three of the five Chinese, two men and one woman, boarded the Boeing 737-800 in Abidjan, the economic capital of Cote d'Ivoire, where the aircraft took off and was bound for Kenya's capital Nairobi via Cameroon's coastal city of Douala, the embassy said.
The three were identified as Jiang Xuedong, a Chinese company employee based in Cote d'Ivoire, Bian Jingzhong and Shi Weisha, a couple doing business in Abidjan, the embassy said.
While the identities of the other two men, who boarded the flight KQ-507 in Douala, had been already known. One victim was identified as Liu Sheng, an employee from the Huawei Technologies Co., Ltd based in southern booming city of Shenzhen. Another was Wu Changgen, a businessman from eastern China's Jiangsu Province.