YAOUNDE, Cameroon - A Kenya Airways flight with more than 100 people aboard crashed in southern Cameroon, state radio reported Saturday.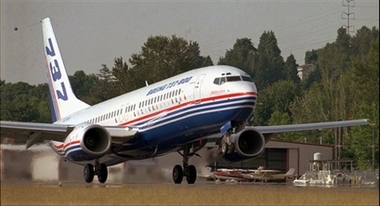 The first Boeing 737-800, the longest 737 ever built, takes off on it's first flight Thursday, July 31, 1997, in Renton, Wash. Kenya Airways has lost contact with a commercial airliner, similar to the one shown, early Saturday May 5, 2007 the airline said. [AP]
The radio report said the flight, which lost contact with airport controllers soon after taking off around midnight from Douala, Cameroon, crashed near the southern town of Niete.
The report did not provide further details.
Kenya Airways said earlier Saturday it had lost contact with the plane shortly after takeoff.
"The last message was received in Douala after takeoff and thereafter the tower was unable to contact the plane," Kenya Airways CEO Titus Naikuni said in the Kenyan capital.
The Boeing 737-800 was carrying 106 passengers, eight crew members and a flight engineer, he said. The plane is capable of carrying 189 passengers.
"We have no details about what has happened to the aircraft," Naikuni said.
The flight departed Douala at 12:05 am and was to arrive in Nairobi at 6:15 am The flight originated in Ivory Coast but stopped in Cameroon to pick up more passengers, the airline said.
The airline opened a crisis management center near the airport. Relatives of those on the plane were instructed to go to a downtown airport, where they would be provided information as it became available.
The last crash of an international Kenya Airways flight was on Jan. 30, 2000, when Flight 431 was taking off from Abidjian, Ivory Coast, on its way to Nairobi. Investigators blamed a faulty alarm and pilot error for that crash, which killed 169 people.