LOLODORF, Cameroon - Fog and thick forest reduced visibility to about 200 yards Sunday morning as rescuers prepared to resume the search in southern Cameroon for a Kenya-bound flight that crashed with 114 people on board after sending out a distress signal, officials said.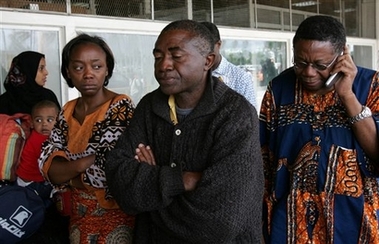 Relatives of a passenger on the Kenya Airways plane that crashed in Cameroon mourn at the Jomo Kenyatta airport in Nairobi, Kenya, Saturday, May 5, 2007. [AP]


Rescuers suspended the search because of heavy rains late Saturday. The rains had subsided by daybreak, but fog persisted.

The jet bound for the Kenyan capital, Nairobi, went down early Saturday near Lolodorf, about 90 miles southeast of the coastal city of Douala, where it had taken off after midnight, said Alex Bayeck, a regional communications officer.

There was no word on survivors, Bayeck said by telephone Saturday en route to the crash site.

On Saturday, search planes flew over the forested area where the airliner gave off a distress signal, but no wreckage has been spotted.

The search continued on the ground into the night, but helicopters could not operate effectively in the dark, said Jean Francois Villong, a local official coordinating the rescue effort. The helicopters would start again Sunday morning, he said, and more rescue workers including security forces were expected. Much of Saturday's searching was done by volunteers from local villages, he said.

Relatives and colleagues of those aboard were making their way to the remote area, which has few roads and is dotted by small villages. Some expressed a willingness to search themselves but acknowledged they did not know how to begin in the tough conditions.

"It is very difficult because this area is very mountainous and heavily forested. And we suspect the plane may have fallen into a valley," Villong said.

Infrastructure is poor in Cameroon's interior, with much of the area being searched only accessible by dirt tracks that turn to impassable mud in the rainy season. The country of 17 million on Africa's western coast has oil reserves and lush farmland but many of its citizens remain poor subsistence farmers.

Residents in the area reported hearing a "large boom" during the previous night, Bayeck said, and some people said they saw a flash of fire that looked markedly different from lightning.

Close to a dozen ambulances stood ready in Lolodorf on Saturday, and a handful of family members of passengers gathered in the city center. Some said they had traveled as far as 250 miles in tough conditions that day.

"I don't know what to do. I'm just terribly confused. My younger sister boarded this plane that is supposed to have crashed. I hope we can still find her alive," said Innocent Bonu, a lawyer from the southwestern town of Buea.

In Kenya, Kenya Airways CEO Titus Naikuni held back on confirming the crash "until we see the plane - until then, it's missing," he said.

The distress call, he said was issued automatically - "from a machine, not a pilot" - but he noted a crash is not the only reason a plane issues an automatic distress signal.

Boeing spokesman Jim Proulx said the plane that crashed was equipped with an emergency transmitter that sends out an automatic locator signal "in the event of a rapid change in velocity."

Proulx told The Associated Press by telephone from Seattle, Wash., that the transmitter would have been activated upon impact, and can also be turned on by the plane's flight crew.

Naikuni said the plane, which was almost new, took off an hour late because of rain. Douala airport officials confirmed thunderstorms at the time of takeoff, but said that was unlikely to have been the sole cause of the accident.

"There was a thunderstorm, but there were other planes that left after (the Kenya Airways flight to Nairobi) that had no problems," said Thomas Sobatam, head of weather observation at the airport.

The Boeing 737-800 was carrying 114 people, including 105 passengers from at least 23 countries, Kenyan airline officials said. A Nairobi-based Associated Press correspondent, Anthony Mitchell, was believed to be among them. Mitchell had been on assignment in the region for the past week.

"Anthony ... had contacted his family before boarding the flight to let them know he was headed home," AP Executive Editor Kathleen Carroll said. "We hope for the best."

The flight departed Douala at 12:05 a.m. and was to have arrived in Nairobi at 6:15 a.m. The flight originated in Ivory Coast and stopped in Cameroon to pick up more passengers, the airline said.

The Douala-Nairobi flight runs several times a week and commonly is used as an intermediary flight to Europe and the Middle East. Kenya Airways - considered one of the safest airlines in Africa - said most passengers were planning to transfer to ongoing flights in Nairobi.

The U.S. National Transportation Safety Board said it was sending a team to assist Cameroon in its investigation of the crash.

Boeing's Proulx said there have not been any safety concerns with Chicago-based Boeing's fleet of 737-800s. About 2,000 737-800s are in use around the world.

The last crash of an international Kenya Airways flight was on Jan. 30, 2000, when Flight 431 was taking off from Abidjan, Ivory Coast, on its way to Nairobi. Investigators blamed a faulty alarm and pilot error for that crash, which killed 169 people.