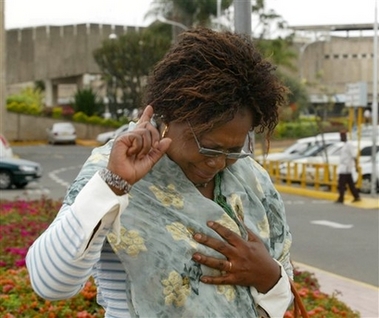 A relative cries on hearing the news of the Kenya airways plane missing at Jomo Kenyatta airport in Nairobi, Kenya, Saturday, May 5, 2007. [AP]

YAOUNDE, Cameroon - Five Chinese passengers have been identified as a Kenyan Airways aircraft they were traveling on went missing earlier Saturday morning, the Chinese Embassy in Cote d'Ivoire confirmed on Saturday.

Three of the five Chinese, two men and one woman, boarded the Boeing 737-800 in Abidjan, the economic capital of Cote d'Ivoire, where the aircraft took off and was bound for Kenya's capital Nairobi via Cameroon's coastal city of Douala, the embassy said.

The three were identified as Jiang Xuedong, a Chinese company employee based in Cote d'Ivoire, Bian Jingzhong and Shi Weisha, a couple doing business in Abidjan, the embassy said.

While the identities of the other two men, who boarded the flight KQ-507 in Douala, had been already known. One victim was identified as Liu Sheng, an employee from the Huawei Technologies Co., Ltd based in southern booming city of Shenzhen. Another was Wu Changgen, a businessman from eastern China's Jiangsu Province.

According to Kenya Airways, Africa's second-largest carrier, the six-month-old passenger jet, with 114 people aboard, left Douala at five minutes past midnight but failed to arrive in Nairobi at 6:15 a.m. (0315 GMT) as scheduled.

The last message from the aircraft was received by the Douala control tower immediately after its take-off. A distress signal was picked up on the West Coast of Africa.

The Kenyan authorities said they were doing everything possible to locate the aircraft.

Cameroonian radio said earlier that the plane crashed near Niete, south along the coast from Douala, but later reports suggested the crash had happened further inland. It was not clear yet whether the 105 passengers, a crew of eight and one engineer could survive.

A Kenya Airways jet that took off during a midnight storm crashed early Saturday with 114 on board after sending out a distress signal over remote southern Cameroon, officials said. Nearby villagers reported hearing an explosion and seeing a flash of fire.

The jet bound for the Kenyan capital, Nairobi, went down near the town of Lolodorf, about 90 miles southeast of the coastal city of Douala, where it had taken off after midnight, said Alex Bayeck, a regional communications officer.

There was no word on survivors, Bayeck said by telephone en route to the crash site. He said search planes were flying over the forested area where the airliner gave off a distress signal but no wreckage has been spotted.

Residents in the area, which has few roads and is dotted by small villages, reported hearing a "large boom" during the night, and some described a flash of fire that looked markedly different from lightning, Bayeck said.

In Lolodorf, close to a dozen ambulances stood ready and a handful of family members of passengers gathered in the city center. Some said they had traveled as far as 250 miles that day.

"I don't know what to do. I'm just terribly confused. My younger sister boarded this plane that is supposed to have crashed. I hope we can still find her alive," said Innocent Bonu, a lawyer from the southwestern town of Buea.

Jean Francois Villong, a local official who is coordinating the rescue effort, said the air search stopped with nightfall because helicopters could not operate effectively in the dark, but the ground search was continuing.

"It is very difficult because this area is very mountainous and heavily forested. And we suspect the plane may have fallen into a valley," Villong said.

He said helicopters will start searching again in the morning and additional rescue workers are expected to reinforce the effort. Much of Friday's searching was done by volunteers from local villages, Villong added.

Kenya Airways CEO Titus Naikuni held back on confirming the crash "until we see the plane - until then, it's missing," he said.

He said the distress call was issued automatically - "from a machine, not a pilot" - but said a crash is not the only reason a plane issues an automatic distress signal.

Boeing spokesman Jim Proulx said the plane that crashed was equipped with an emergency transmitter that sends out an automatic locator signal "in the event of a rapid change in velocity."

Proulx told The Associated Press by telephone from Seattle that the transmitter would have been activated upon impact and can also be manually turned on by the plane's flight crew.

Naikuni said the plane, which was almost new, took off an hour late because of rain. Douala airport officials confirmed thunderstorms at the time of takeoff but said that was unlikely to have been the sole cause of the accident.

"There was a thunderstorm, but there were other planes that left after (the Kenya Airways flight to Nairobi) that had no problems," said Thomas Sobatam, head of weather observation at the airport.

Kenya's transport minister, Ali Chirau Makwere, said it was too early to determine what happened.

"We need to get information from the technical experts as to whether it was occasioned by the weather or pilot error or mechanical fault," he said in Nairobi. "We really don't know. It's too early to make any conclusions."



| | | |
| --- | --- | --- |
| 1 | 2 | |