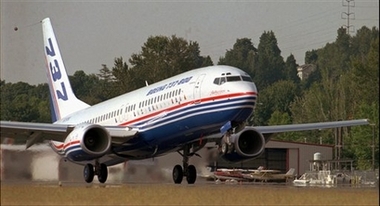 The first Boeing 737-800, the longest 737 ever built, takes off on it's first flight Thursday, July 31, 1997, in Renton, Wash. [AP]

The Boeing 737-800 was carrying 114 people, including 105 passengers from at least 23 countries, Kenyan airline officials said. A Nairobi-based Associated Press correspondent, Anthony Mitchell, was believed to be among them. Mitchell had been on assignment in the region for the past week.

"Anthony ... had contacted his family before boarding the flight to let them know he was headed home," AP Executive Editor Kathleen Carroll said. "We hope for the best."

Relatives at Nairobi's airport began wailing as news reports of the crash filtered in. Dozens of family members collapsed in the airport terminal.

One person at the airport said families had not been given any information. "I cannot talk now because there is no news," he said, declining to give his name.

Janet Mwema went to a crisis center Kenya Airways set up at a Nairobi hotel because she believed her daughter, Vicky, a cabin crew member, might have been on the flight.

"We trust God that he will strengthen his people," Mwema said. "Because we all go one day, whether it is accident or what."

The flight departed Douala at 12:05 a.m. and was to arrive in Nairobi at 6:15 a.m. The flight originated in Ivory Coast but stopped in Cameroon to pick up more passengers, the airline said.

"The last message was received in Douala after takeoff and thereafter, the tower was unable to contact the plane," Naikuni said earlier Saturday. He said the plane was only six months old.

Kenyan government spokesman Alfred Mutua urged patience. "The area is in a very dense forest; the weather has been horrid to say the least," he said, suggesting that rain was hampering the search.

That area of Cameroon is not well-covered by radar, and investigators are having a hard time pinpointing the plane's flight path, Mutua said.

Infrastructure is poor in Cameroon's interior, with much of the area being searched only accessible by dirt tracks that turn to impassable mud in the rainy season. The country of 17 million on Africa's western coast has oil reserves and lush farmland but many of its citizens remain poor subsistence farmers.

The Douala-Nairobi flight runs several times a week and commonly is used as an intermediary flight to Europe and the Middle East. Kenya Airways - considered one of the safest airlines in Africa - said most passengers were planning to transfer to ongoing flights in Nairobi.

The U.S. National Transportation Safety Board said it was sending a team to assist the government of Cameroon in its investigation of the crash.

In 2004, the United States helped investigate the crash of a Flash Airlines Boeing 737 that killed all 148 on board minutes after taking off from the Red Sea resort of Sharm el-Sheik, Egypt.

Proulx said there have not been any safety concerns with Chicago-based Boeing's fleet of 737-800s. About 2,000 737-800s are in use around the world.

"We express our profound concern for the passengers and crew on board on the Kenya Airways flight that went missing," Proulx said Saturday. "We stand ready to assist the authorities if they ask us to do so."

The last crash of an international Kenya Airways flight was on Jan. 30, 2000, when Flight 431 was taking off from Abidjan, Ivory Coast, on its way to Nairobi. Investigators blamed a faulty alarm and pilot error for that crash, which killed 169 people.



| | | |
| --- | --- | --- |
| | 1 | 2 |