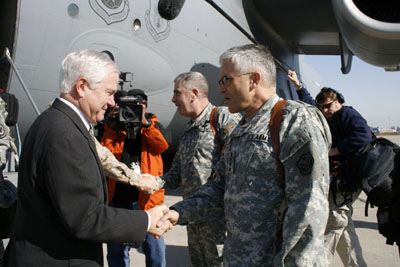 Newly installed US Defense Secretary Robert Gates (L) greets General George Casey (R) and General John Abizaid (C) upon arriving in Baghdad December 20, 2006. [Reuters]


WASHINGTON - The Pentagon wants the White House to seek an additional US$99.7 billion to fund the wars in Iraq and Afghanistan, according to information provided to The Associated Press.
Special coverage:
Escalating Violence in Iraq

Related readings:
Pentagon wants $99.7B more for wars
Bush warns of more US losses in Iraq
US defense secretary visits Iraq
Gates: Failure in Iraq will haunt US
Bush plans more troops in Iraq
The military's request, if embraced by President Bush and approved by Congress, would boost this year's budget for those wars to about US$170 billion.

Military planners assembled the proposal at a time when Bush is developing new strategies for Iraq, such as sending thousands of more US troops there, although it was put together before the president said the troop surge was under consideration.

Overall, the war in Iraq has cost about US$350 billion. Combined with the conflict in Afghanistan and operations against terrorism elsewhere, the cost has topped US$500 billion, according to the nonpartisan Congressional Research Service.

The additional funds, if approved, would push this year's cost of the war in Iraq to about US$50 billion over last year's record. In September, Congress approved an initial US$70 billion for the current budget year, which began Oct. 1.

A description of the Pentagon request was provided by a person familiar with the proposal who asked for anonymity because the person was not authorized to release the information.

The cost of the war has risen dramatically as the security situation has deteriorated and more equipment is destroyed or worn out in harsh conditions. The Army, which has borne the brunt of the fighting, would receive about half of the request, a reflection of the wear and tear that the war has had on soldiers and their equipment.

An additional US$9.8 billion is being sought for training and equipping Iraq's and Afghanistan's security forces.

The administration's request for more Iraq money will be submitted along with Bush's budget in February for the 2008 budget year, which starts next Oct. 1. The White House can add or subtract from the Pentagon request as it sees fit, and the total could grow if money is added for reconstruction costs.

In a memo several weeks ago, Deputy Defense Secretary Gordon England encouraged the services to include in their budget requests projects connected to the broader fight against terrorism, as opposed to costs strictly limited to Iraq and Afghanistan. Critics have said that could be interpreted to cover almost anything.

Earlier requests submitted by service branches to Pentagon brass were considerably higher, but were trimmed back after meeting resistance at the White House and from key lawmakers.

The budget request includes:

_US$41.5 billion to cover the costs of ongoing military operations.

_US$26.7 billion for replacing and repairing equipment damaged or destroyed in Iraq and Afghanistan.

_US$10 billion for body armor and other equipment to protect U.S. troops from attack.

_US$2.5 billion to combat roadside bombs and other improvised explosive devices.

_US$2.7 billion for intelligence activities.

Whatever request emerges from the Bush administration will go to a new Congress controlled by Democrats highly critical of the Iraq war and Bush's handling of it.

Even so, there is much sentiment among Democrats to protect troops and much fear about being portrayed as unsympathetic to men and women in uniform. These factors probably would overwhelm any efforts by anti-war Democrats to use the debate over the Iraq money to take on Bush's conduct of the war.

Democrats have promised, however, to give the upcoming request greater scrutiny than Republicans did when considering Bush's previous requests.

"Democrats are committed to ensuring our troops have all that they need, but we're going to return oversight to spending on the war," said Jim Manley, spokesman for incoming Senate Majority Leader Harry Reid, D-Nev. "Our troops must have everything they need, but Halliburton shouldn't get everything it wants."

Halliburton Co. is a Texas-based oil services conglomerate once led by Vice President Dick Cheney. Bush administration officials have come under fire since the beginning of the war in Iraq for awarding more than US$10 billion to the company and its subsidiaries in 2003 and 2004, some of it in a no-bid contract. There have been allegations of fraud, poor work, overpricing and other abuse, which the company has denied.

Democrats such as incoming Senate Budget Committee Chairman Kent Conrad of North Dakota have grown increasingly critical of the fact that Iraq spending is kept on a set of books separate from the rest of government operations.

The Vietnam War cost an inflation-adjusted US$121 billion at its height in 1968, according to the Congressional Research Service. The overall tally for Vietnam is US$663 billion, adjusted for inflation, and Iraq costs are rapidly catching up.