WASHINGTON - Acknowledging deepening frustration over Iraq, President Bush said Wednesday he is considering an increase in American forces and warned that next year will bring more painful US losses. New Defense Secretary Robert Gates said in Baghdad that a troop surge was an obvious option.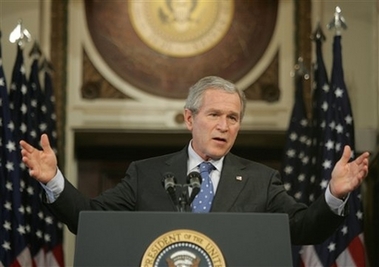 President Bush gestures during a news conference in the Indian Treaty Room of the Eisenhower Executive Office Building in Washington, Wednesday, Dec. 20, 2006. [AP]


Bush was unusually candid at a year-end news conference about US setbacks and dashed hopes in the war, which has claimed the lives of more than 2,950 US military members.

He said "2006 was a difficult year for our troops and the Iraqi people. We began the year with optimism" but that faded as extremists fomented sectarian violence between Sunnis and Shiites.

Related readings:


Gates: Failure in Iraq will haunt US


Gates set to take over at Pentagon


Bush signals possible shift in Iraq policy


New US defense head faces tests of unpopular war
"And over the course of the year they had success," the president acknowledged. "Their success hurt our efforts to help the Iraqis rebuild their country, it set back reconciliation, it kept Iraq's unity government and our coalition from establishing security and stability throughout the country."
Democrats are about to claim control of Congress and Americans are overwhelmingly unhappy about Bush's handling of the war, so the president is at a turning point as he searches for new approaches. Administration officials said Bush's remarks were intended to brace a war-weary nation for another tough year in Iraq.
The heavy cost of the war also came into focus as the Pentagon circulated a request for an additional $99.7 billion to pay for the fighting in Iraq and Afghanistan. If embraced by Bush and approved by Congress, the proposal would boost this year's budget for those wars to about $170 billion.
So far, four years of war in Iraq have cost about $350 billion.
On just his third day as secretary, Gates made an unannounced visit to Baghdad to review options with senior American commanders. He said no decisions have been made.
"We discussed the obvious things," Gates told reporters. "We discussed the possibility of a surge and the potential for what it might accomplish."
Gates said he was only beginning to determine how to reshape US war policy. He also said he would confer with top Iraqi officials about what America's role should be in Iraq. Bush is awaiting Gates' recommendations before making a speech in January announcing changes in strategy and tactics.
The shift in policy is likely to be accompanied by a shuffle of top American generals in Iraq. Army Gen. John P. Abizaid, commander of US forces in the Middle East, has submitted plans to go ahead with a retirement that is months overdue. And the top US commander in Iraq, Gen. George Casey, has indicated he may not stay much longer than the end of this year.

| | | |
| --- | --- | --- |
| 1 | 2 | |