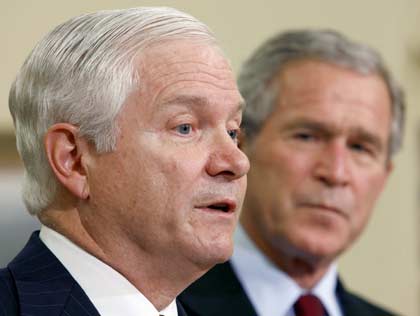 US President George W. Bush (L) listens to Robert Gates speak after Bush announced that Gates will replace Donald Rumsfeld as Secretary of Defense at the White House in Washington November 8, 2006. [Reuters]

Washington -- US President George W. Bush's choice to head the Pentagon would inherit an unpopular war in Iraq, a straining military mobilized in hot spots around the world and a budget that commanders complain has underfunded their combat needs.

Robert Gates' biggest hurdle would doubtless be meeting the high expectations for an Iraq exit strategy under pressure from next year's Democratic-controlled Congress and a war-weary American public.

Given Bush's suggestion this week that his new Cabinet member would be a force for change, Gates would be expected to do what the outgoing secretary, Donald H. Rumsfeld, could not: Figure out how to bring home substantial numbers of troops from Iraq in short order, without surrendering the country to a new insurgency or triggering all-out civil war.

"If anybody had a silver bullet answer for this, the president and the previous secretary would have done it, they would have loved to get the troops out early," said retired Marine Lt. Gen. Michael DeLong, former deputy commander of the US Central Command during the Afghanistan and Iraq wars.

As a member of the Iraq Study Group, a bipartisan panel that has been asked to help chart a new course in the war, Gates has been immersed in the issue for months. That group is expected to issue its recommendations as early as next month, and they are eagerly awaited by Bush and members of Congress.

Some military leaders have quietly suggested there are ways to reduce the number of US troops in Iraq by restructuring the way coalition forces are being used.

A smaller US presence, they have argued, could lessen tensions and reduce the violence and still provide needed training to the Iraqis. Gates will also have to decide whether to reduce the combat role of American forces there and instead use them more as advisers and as backups in emergencies.

Democratic Senator Carl Levin said he plans to ask Gates what he thinks about Democrats' proposal to begin bringing home some troops immediately to try to pressure the Iraqi government to take more responsibility.

"There's a lot of other questions that need to be asked about Iraq, having to do with the militias, having to do with the military situation in Iraq, having to do with the control of Anbar Province," an area plagued by insurgents, Levin said.

Senate Armed Services Committee Chairman John Warner,a Republican, warned not to expect any quick recommendations for change, given that Gates "probably hasn't had as much time as he would like."

Democratic Senator Jack Reed said Gates will have to grapple with North Korea's and Iran's nuclear programs, a military that is also stretched in Afghanistan, East Asia and elsewhere, and how to fund the billions needed to fix military equipment.

"There are a host of issues that involve not only the mission in Iraq, but also the resources to accomplish that mission," Reed said.

Gates will be faced almost immediately with decisions about the Defense Department's $470 billion budget, including concerns that there is not enough money for the Army and Marines to replace equipment destroyed or worn out in Iraq. The National Guard alone has said it needs as much as double the $30 billion earmarked for it over the next five years.

Gates' two decades with the CIA, including his 1991-1993 stint as director, may give him the advantage of recognizing of how intelligence agencies must work together.

"He should have a pretty good understanding and sensitivity and feel for the requirements of unconventional warfare, which the military is only lately beginning to really get its arms around," said Thomas Donnelly, a senior adviser at the Center for Strategic and International Studies.

Some suggested that one of the best things going for Gates may be that he's not Rumsfeld -- a man known for his demanding and often combative style.

"The only real negative that I see, is that he's not an expert on military issues," said Michele Flournoy, a senior Pentagon official in the Clinton administration. "But he has a reputation for being a good listener and a quick learner."