BAGHDAD, Iraq - To Col. Al Kelly, whose brigade patrols dangerous Shiite neighborhoods on the north side of Baghdad, Donald H. Rumsfeld did the best he could, made tough decisions and "now he's paying for it."
"He made hard decisions no one else would make," said Kelly, 45, of Weldon, N.C., after President Bush announced that he was replacing Rumseld as Pentagon chief with former CIA director Robert Gates.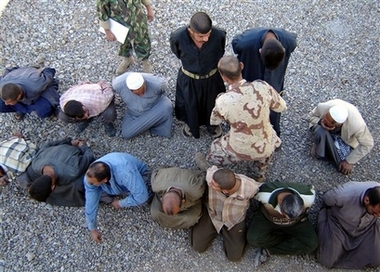 Iraqi soldiers guards detainees in Baqouba, 60 kilometers (35 miles) northeast of Baghdad, Iraq, Wednesday, November 8, 2006. Iraqi military killed three suspected militants and detained 13 others in a raid. [AP]

While US troops have complained Rumsfeld sought to control Iraq with too few troops, many Iraqis say the US-led forces failed to offer day-to-day protection against insurgent and militia attacks.

Some expected Rumsfeld's resignation and the Democrats' gains in Congress to improve security and spur an earlier withdrawal of US troops. Others expected little to change.

"I expect a major change in military commands in Iraq," said Hassan al-Sunnaid, a member of Prime Minister Nouri al-Maliki's Dawa party. "We have to wait and see the strategy of the new secretary (Gates) and how we will deal with him. We hope he will be more effective and more serious in achieving security in Iraq."

"The Bush administration including Rumsfeld was able to topple Saddam Hussein's regime but it did not succeed in administering Iraq," al-Sunnaid said. "Defense officials, on top of them Rumsfeld, failed and so did the American ambassador. Changing Rumsfeld should have happened a year ago because their work in Iraq did not achieve any results."

Hassan Rhadi, a Shiite and one of several ministers of state without portfolio in the al-Maliki Cabinet, said a new defense secretary "would only mean a change in tactics, but not in strategy. We will not judge the successor until see what he will do in Iraq."

As the House of Representatives returned to Democratic control and the Senate hung in the balance, Iraqis took note of the results, which came on a day when at least 66 more people were killed in vicious sectarian attacks.

A Shiite woman, who identified herself as Um Assad, mother of Assad, probably spoke for most Iraqis when questioned about the election as she shopped near the National Museum. Security was uppermost in nearly everyone's mind.

"We hope that they (the Democrats) will be kind to our people and understand our problems," she said.



| | | |
| --- | --- | --- |
| 1 | 2 | |