NEW YORK - Democratic Sen. Hillary Rodham Clinton, widely believed to be weighing a bid for the White House, won re-election to a second term in the US Senate on Tuesday.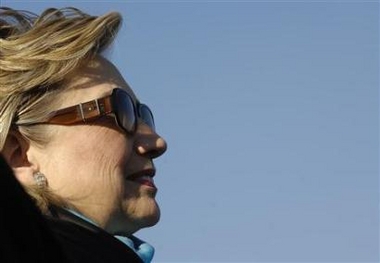 Senator Hillary Clinton attends a sendoff ceremony for the USS Intrepid in New York City November 6, 2006. [Reuters]


CNN and NBC television networks projected the former first lady defeated Republican challenger John Spencer.
Clinton had been expected to win easily, having outpolled Spencer, the former mayor of Yonkers, by more than 30 points in a state where registered Democrats outnumber Republicans by a 5-3 ratio.
Her second Senate term in hand, Clinton now faces widespread speculation that she will pursue higher political office.
Prior to Election Day, Clinton insisted she was concentrating on her re-election campaign and had not made a decision on a White House bid.
New York Republicans tried to make an issue of her possible higher political ambitions but most voters indicated it made no difference in whether they would re-elect her to the Senate.
Political analysts noted Clinton has tried to broaden support in New York, where voters tend to have more conservative leanings upstate and outside of New York City, with moderate positions during her first term.
An anti-war candidate challenged Clinton for the Democratic Senate nomination, taking issue with her vote in Congress to support the US-led war in Iraq, but he gained little traction.
Clinton enjoyed fat campaign coffers, having raised $35 million while Spencer raised less than $4 million.
She also enjoyed celebrity status during the race, particularly when former President Bill Clinton joined his wife on the campaign trail.