BAGHDAD, Iraq - New Defense Secretary Robert Gates arrived in Baghdad on Wednesday, armed with a mandate from President Bush to help forge a new Iraq war strategy. He made the unannounced trip to the battlefront just two days after taking over at the Pentagon.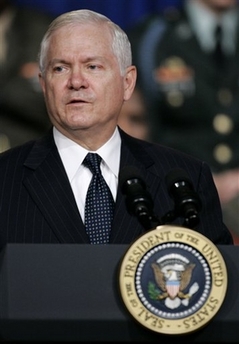 Defense Secretary Robert Gates speaks at the Pentagon, Monday, Dec. 18, 2006 following his swearing in ceremony. [AP]
Gates went in pursuit of advice from his top military commanders on a new strategy for an increasingly unpopular, costly and chaotic war - one he has conceded the US is not winning. His trip so soon after taking office underscored the Bush administration's effort to be seen as energetically seeking a new path in the conflict.
"The whole purpose is to go out, listen to the commanders, talk to the Iraqis, and see what I can learn," Gates told reporters as he boarded his aircraft in Washington on Tuesday.
Gates and Gen. Peter Pace, chairman of the Joint Chiefs of Staff, were scheduled to meet with US and Iraqi military and political leaders.
As they flew to Iraq, the Los Angeles Times reported that Army Gen. John P. Abizaid, commander of US forces in the Middle East, has submitted plans to retire and will leave his post in March.
Abizaid was among those expected to meet with Gates and Pace in Baghdad. His four-year term as chief of the Central Command, or Centcom, was to have ended in July but a spokesman earlier had said he agreed to stay until "early 2007" at the request of former defense chief Donald H. Rumsfeld. The Times quoted one recently retired Army general as saying Abizaid wanted to retire earlier, but was blocked by Rumsfeld.
The top US commander in Iraq, Gen. George Casey, has indicated in recent months that he also may not stay much beyond the end of this year.
Related readings:


Gates: Failure in Iraq will haunt US


Gates set to take over at Pentagon


Bush signals possible shift in Iraq policy


New US defense head faces tests of unpopular war

Shortly before Gates' arrival, the US military in Iraq announced that a senior al-Qaida leader had been arrested in Mosul on Dec. 14 and that security responsibilities in Iraq's northern Najaf province were handed over to Iraqi forces earlier Wednesday. It was not clear whether the announcements were timed to coincide with Gates' visit.

On Tuesday, Bush told The Washington Post he is ready to boost the overall size of the US military, acknowledging he agrees with recent complaints by top generals that the forces have been stretched too thin by the worldwide campaign against terrorists. He used no figures, but said he was asking Gates to produce a plan for the expansion.

Gates' trip to Iraq comes with the Bush administration under intense pressure from Congress and the American public to sort through options for a war that has caused the deaths of more than 2,940 US troops and cost more than $300 billion. More than three-and-a-half years after the US invasion that toppled Saddam Hussein, the conflict now involves insurgents and bloodshed between Sunnis and Shiites that seems on the cusp of civil war.

Bush is considering choices ranging from a short-term surge of thousands of troops to bring the escalating violence in Baghdad and Anbar province under control, to removing combat US forces and accelerating the training and equipping of Iraqi security forces.

There are about 140,000 US troops in Iraq, more than a third of whom have combat duties.

Gates' visit also follows the release of a grim Pentagon report that revealed a 22 percent increase in violence in Iraq since August, and a steady decline in confidence Iraqis have in their government.

It is Gates' first trip to Iraq as defense secretary.

He went there earlier this year as a member of the Iraq Study Group, a bipartisan commission that spent nine months assessing the situation in Iraq. It produced recommendations that include phasing out most US combat troops by early 2008, increasing military training for Iraqis and including Iran and Syria in regional efforts to end the violence.

Rumsfeld resigned last month the day after Democrats swept elections to win control of the House and Senate next year. Their triumph was powered by an American electorate that many believe was signaling has lost patience with the conflict.

When Gates was sworn in Monday, he promised to visit Iraq "quite soon" to hear from military leaders.

"Failure in Iraq at this juncture would be a calamity that would haunt our nation, impair our credibility, and endanger Americans for decades to come," said Gates, 63.

During the ceremony at the Pentagon, Bush said Gates will bring a "fresh perspective" to the Defense Department, and will help the country forge a new way forward in Iraq.