BAGHDAD, Iraq - A somber and subdued Saddam Hussein called on Iraqis to "forgive, reconcile and shake hands" as he returned to court Tuesday for his Kurdish genocide trial two days after being sentenced to death in a separate case.
Iran urged Iraq to disregard calls for clemency and hang the ousted president, saying Saddam's "very existence is anti-human."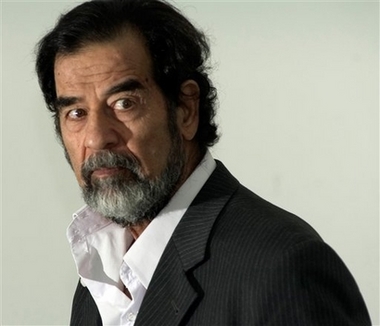 In this photo, former Iraqi leader Saddam Hussein is seen as he is questioned by Chief Investigative Judge Raid Juhi, not seen, Aug. 23, 2005 at an unknown location. Saddam was sentenced to hang on Sunday. [AP]


The startling call from Saddam came after he rose during the afternoon session to question the testimony of the witnesses, who told of a mass killing of Iraqi Kurds in the 1987-88 Operation Anfal crackdown on Kurdish guerrillas.
Special coverage:
Iraq after War and Saddam on trial

Related readings:
Bush hails verdict as milestone for Iraq
Saddam verdict opinion differs worldwide
Round-the-clock curfew keeps lid on Iraq
Chinese experts: Sentence may aggravate situation
Iraq shuts down 2 Sunni TV stations
Rumsfeld OKs hike in Iraqi forces
Bush pledges support for Iraq PM
US death toll in Iraq worst in a year
Saddam then calmly spoke about how the Prophet Muhammad and Jesus Christ asked for forgiveness for those who had opposed them.
"I call on all Iraqis, Arabs and Kurds, to forgive, reconcile and shake hands," Saddam said before resuming his seat.
The former president's demeanor was far different from his combative performance Sunday, when another court convicted him in the deaths of about 150 Shiite Muslims following an assassination attempt against him in the town of Dujail in 1982.
Saddam and two others were sentenced to death by hanging. Four co-defendants received lesser sentences and one was acquitted. Saddam thundered "Long live the people and death to their enemies" when the sentence was imposed.
On Tuesday, however, Saddam, dressed in a dark suit and white shirt, sat quietly along with the six other defendants in the Anfal case, calmly taking notes as four Kurdish witnesses gave their testimony.
Saddam's goal in making the statement was unclear.
However, the remarks followed at least two other public declarations by Saddam in recent weeks in which he urged national unity - perhaps to secure a more favorable place in history or to encourage contacts between the Americans and his supporters.
One statement, released last month by his lawyers, urged Iraqis to remember that their goal should be to free the country "from the forces of occupation and their followers" and not "settling scores."
In a statement Sunday, Saddam urged Iraqis not to "take revenge on the invading nations and their people" and to unite "in the face of sectarian strife."
A nine-judge appeals panel is expected to rule on Saddam's guilty verdict and death sentence in the Dujail case by the middle of January, the chief prosecutor said. That could set in motion a possible execution by mid-February.
The death sentence has drawn criticism from European and human rights officials who oppose capital punishment - regardless of the crime.
"Even a person like Saddam Hussein should not be sentenced to death," Manfred Nowak, the U.N. special investigator on torture, said during a human rights forum in Vienna.
In Tehran, however, the Iranian government called for the death sentence to be carried out, saying that Saddam was a criminal who deserved to die.
"We hope the fair, correct and legal verdict against this criminal ... is enforced," government spokesman Gholam Hossein Elham said. "Saddam has both Shiite and Sunni blood on his hands. His very existence is anti-human."
Iran and Iraq waged a bitter eight-year war after Saddam invaded the country in 1980.
On Tuesday, the court heard testimony from survivors of an Aug. 28, 1988 massacre of more than 30 Kurdish men, who had surrendered after hearing that Saddam offered amnesty to Kurdish rebels.
Instead, the witnesses said they were herded together at the base of a hill, where Iraqi soldiers opened fire on them. Only a handful survived.
"When they fired in our direction, we all fell to the ground," Qahar Khalil Mohammed testified. "When I went back, I saw my father and two brothers had been killed, as well as 18 of my relatives."
Mohammed said an Iraqi medical officer used a broken bottle to clean his wound.
Witness Abdul-Karim Nayif said the men had been hiding in caves after an attack on their village near the Turkish border and some had considered suicide.
But they decided instead to surrender after Iraqi officers "swore on the Quran" that Saddam's offer of amnesty was genuine, Nayif said.
Another survivor, Abdul-Karim Nayif, submitted a video of a mass grave found near the site of the massacre after Kurds gained self-rule in 1991. The video showed numerous human remains.
Saddam and his cousin "Chemical Ali" al-Majid are charged with genocide in the Anfal case. The other defendants are accused of crimes against humanity and war crimes. All could be sentenced to death by hanging if convicted.