BAGHDAD, Iraq - A round-the-clock curfew imposed ahead of the verdict against Saddam Hussein kept a relative peace in Iraq's most dangerous regions on Sunday, but the US military announced two more American deaths and police said 72 people were killed or found dead nationwide by daybreak.
Iraq's government clamped the open-ended curfew on Baghdad and the restive provinces of Diyala and Salahuddin, closed the city's international airport, added checkpoints and stepped up police patrols with the US military. All leave for Iraqi soldiers was canceled.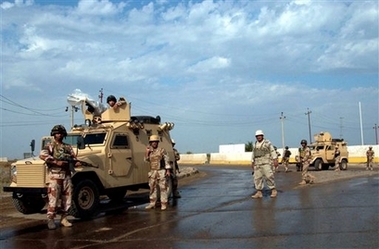 Iraqi soldiers enforce curfew as the death sentence is announced to former leader Saddam Hussein, in Baqouba, 60 kilometers (35 miles) northeast of Baghdad, Sunday Nov. 5, 2006. Iraq's High Tribunal on Sunday found Saddam Hussein guilty of crimes against humanity and sentenced him to hang, as the visibly shaken former leader shouted 'God is great!' [AP]

No widespread bloodshed was reported in Baghdad, despite raucous celebrations by Shiites who defied the curfew in the capital to rejoice over the death sentence given to Saddam and angry counter-protests in Sunni regions.

The security crackdown was one of the heaviest since the February bombing of an important Shiite shrine that unleashed rampant violence between Sunnis and Shiites.

As an additional precaution, security forces closed two Sunni Muslim television stations after Saddam was sentenced to hang, saying they violated the curfew and a law that bans airing material that could undermine the country's stability.

Brig. Gen. Abdul-Karim Khalaf, the Interior Ministry spokesman, told The Associated Press that the Al-Zawraa and Salahuddin stations were closed on the approval of Prime Minister Nouri al-Maliki.

West of Baghdad, fighters sprayed machine gun bullets at US headquarters in the former Sunni insurgent stronghold of Fallujah, a local policeman said, speaking on condition of anonymity for fear of reprisals. No injuries or arrests were reported.

US and Iraqi forces killed 53 suspected insurgents in ground fighting and air strikes Saturday night in a rural area about 14 miles from the capital, police Lt. Bilal Ali Majid said.

The US military did not directly comment on the report, although it did say a U.S. Air Force Predator unmanned drone had fired a Hellfire missile at enemy targets on Saturday in an area just north of the capital.

Lt. Thaer Mahmoud, head of a police section responsible for releasing daily death tolls, gave no details the 72 people whose bodies were recovered, but the number of fear is not unusual for Baghdad, where the tortured bodies of people abducted by death squads are routinely found dumped around the city or floating in the Tigris River.

At least six people died in violence Sunday in and around the capital, including three people killed by rocket and mortar attacks on the primarily Sunni Azamiyah neighborhood, police Maj. Firas Gaiti said.

"Nobody dares to go out. Even inside, we stay in the cellar," said one resident, reached by telephone, who asked not to be named for fear of reprisals from Shiite militiamen known to target Sunni civilians.

An early morning mortar barrage killed two people and wounded four in the strife-ridden Dora neighborhood, while another mortar killed one and injured four in Jisr Diyala, 12 miles south of Baghdad, police Lt. Bilal Ali Majid said.

The U.S. military identified the two casualties as a soldier killed in fighting in western Baghdad and a Marine assigned to Regimental Combat Team 7, who died from non-hostile causes in Anbar province. Both died on Saturday.

At least 13 U.S. troops have died in Iraq so far this month, following a bloody October in which 105 service members were killed - the fourth highest monthly toll of the war.