BAGHDAD, Iraq - After Saddam Hussein was sentenced to hang on Sunday, Iraqi security forces closed two Sunni Muslim television stations for violating curfew and a law that bans airing material that could undermine the country's stability, the Interior Ministry said.
Brig. Gen. Abdul-Karim Khalaf, the Interior Ministry spokesman, told The Associated Press that the Al-Zawraa and Salahuddin stations were closed with the approval of Prime Minister Nouri al-Maliki.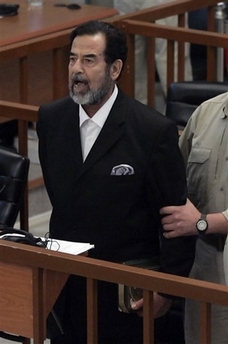 Former Iraqi leader Saddam Hussein yells at the court as he receives his verdict as a bailiff attempts to restrain him during his trial held under tight security in the heavily fortified Green Zone, in Baghdad, Iraq, Sunday, Nov. 5, 2006. Saddam and two others were convicted and sentenced to death by hanging for war crimes in the 1982 killings of 148 people in the town of Dujail. [AP]
He said that the stations violated a curfew imposed in three provinces by speaking to people in the streets and airing comments that were deemed to "incite violence."
The owner of Al-Zawraa, legislator Mishan al-Jabouri, said later Sunday that Iraqi police raided the headquarters of the station and cordoned them off because of the channel's criticism of the verdict.
Al-Jabouri, leader of the small Sunni Arab Front for Reconciliation and Liberation, had his parliamentary immunity stripped last month after he was accused of embezzling funds intended for an armed force protecting oil pipelines in northern Iraq.
Speaking from the Syrian capital of Damascus where he lives, al-Jabouri echoed his TV station's criticism of Saddam's death sentence for the 1982 killings of 148 people in the Shiite town of Dujail.
"If Saddam had ordered the killing of some hundreds of Iraqi people, the current officials in Baghdad deserve 1,000 death sentences because they cause the daily killing of more than those killed by Saddam," he said.
In July, al-Maliki warned television stations against broadcasting video that could undermine Iraq's stability.
Airing programs or comments that incite violence or call for hatred are considered a violation of Iraq's anti-terrorism law, Khalaf said.
In September, the Iraqi government ordered the Arabic satellite network Al-Arabiya to shut down its Baghdad operations for one month.
In November 2003, the US-appointed Governing Council banned Al-Arabiya from reporting from Baghdad after it aired an audio tape said to be from Saddam Hussein, who was still at large at the time. The station was allowed to resume its work shortly afterward.
The Iraqi government closed the Baghdad news office of Al-Jazeera television in August 2004, accusing the station of inciting violence. The office is still closed but the station operates in the Kurdish-ruled area of the north.