WASHINGTON - Defense Secretary Donald H. Rumsfeld on Tuesday endorsed a proposal to spend at least US$1 billion to expand the size and accelerate the training and equipping of Iraqi security forces.
While the plan still must get final approval from the White House and the money would have to be approved by Congress, Rumsfeld's support underscores the Bush administration's effort to shift more of the burden of Iraq's security to that country's forces.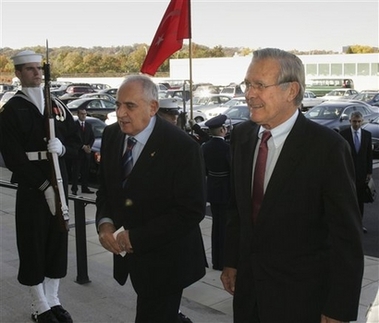 US Defense Sec. Donald Rumsfeld, right, receives Turkey's Minister of National Defense Vecdi Gonul during an honor cordon at the Pentagon in Washington Monday, Oct. 30, 2006. [AP]

"I'm very comfortable with the increases they've proposed and the accelerations in achievement of some of their targets," Rumsfeld told reporters at the Pentagon, noting that the Iraqi government and Gen. George Casey, the top US commander in Iraq, both recommended expanding Iraqi forces.

"Now it's simply a matter of our pressing forward and getting our portion of the funding from the Congress and working to see that it's executed," Rumsfeld said. He did not say how much extra US money would be required.

So far, the US government has spent roughly US$10 billion on developing the Iraqi security forces, according to the latest report released by the Pentagon special inspector general who audits U.S. work in Iraq. One official, speaking on condition of anonymity, described the proposed extra money as more than $1 billion, but would not offer specifics.

Rumsfeld "approved going forward" with the proposal, which is intended to be part of an add-on to the 2007 budget, according to Pentagon press secretary Eric Ruff. It will next be submitted to the White House and other government agencies for their review, Ruff said.

The defense secretary's move comes at a time when the Bush administration has been pressing Iraqi officials to agree to benchmarks with which progress in the war-torn country can be measured. The effort has produced strains with Iraqi Prime Minister Nouri al-Maliki, who has resisted being portrayed as beholden to Washington.

Rumsfeld did not cite a dollar figure or reveal how many extra Iraqi forces would be developed, beyond the 325,000 target that U.S. officials say they expect to reach before year's end.

Two defense officials said Tuesday that the expected increase was far fewer than 100,000, and one official suggested it might be about 30,000. Those officials spoke on condition of anonymity because they were not authorized to discuss the matter publicly.

CBS News reported on Monday that Casey had recommended expanding the Iraqi security forces by as much as 100,000.

Rumsfeld said the final decision on expanding the Iraqi security forces would be announced in Baghdad.

Asked whether such an increase would mean that US troops would have to stay in Iraq longer to train the extra forces, Rumsfeld said he doubted it. Nor would it necessarily require a higher number of US trainers, he said.

US government approval is required for any plan to expand the size of the Iraqi forces because it could not be accomplished without additional US funds and the provision of US trainers and US-acquired equipment.

Rep. Ike Skelton of Missouri, the top Democrat on the House Armed Services Committee, said expanding the Iraqi security forces likely means it will take more than the 12 to 18 months Casey has estimated it will take to get the Iraqis fully in control of their own security.

"Congress must have a clear explanation of why these additional forces are needed, what additional American training resources will be put in place, and how this new training plan will allow for a decreased commitment from American forces," Skelton said.

The current plan is to develop 325,000 Iraqi security forces, including the army, police and border control forces. The number trained and equipped thus far is about 310,000, and the final target is expected to be reached by year's end.

However, there are actually fewer than 310,000 Iraqi security forces who are available for duty, since about one-quarter of them are on leave or otherwise not available at any given time, US officials say. Also, their effectiveness has been limited by a lack of heavy weapons and armor, by a high rate of absenteeism, and by an unwillingness of some locally recruited units to fight outside their home areas.

The Pentagon said Tuesday that there are now 150,000 US troops in Iraq, up from 147,000 last week.