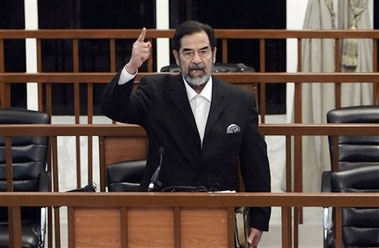 Former Iraqi President Saddam Hussein yells at the court as the verdict is delivered during his trial held under tight security in Baghdad's heavily fortified Green Zone, Sunday November 5, 2006. Iraq's High Tribunal on Sunday found Saddam Hussein guilty of crimes against humanity and sentence him to die by hanging. [AP]



Saddam Hussein's death sentence was celebrated by some on Sunday as justice deserved or even divine, but denounced by others as a political ploy two days before critical US midterm congressional elections.

Worldwide, the range of reactions -- including a European outcry over capital punishment and doubts about the fairness of the tribunal that ordered Saddam to hang -- reflected new geopolitical fault lines drawn after America's decision to invade Iraq in 2003 and depose its dictator.
Special coverage:
Iraq after War and Saddam on trial

Related readings:
Bush hails verdict as milestone for Iraq
Saddam verdict opinion differs worldwide
Round-the-clock curfew keeps lid on Iraq
Chinese experts: Sentence may aggravate situation
Iraq shuts down 2 Sunni TV stations
Rumsfeld OKs hike in Iraqi forces
Bush pledges support for Iraq PM
US death toll in Iraq worst in a year
The European Union welcomed the verdict but said Saddam should not be put to death. At the Vatican, Cardinal Renato Martino, Pope Benedict XVI's top prelate for justice issues, called the sentence a throwback to "eye for an eye" vengeance.
"This is not the way to present the new Iraq to the world, which is different from Saddam, who was behind hundreds of thousands of deaths as well as death penalty sentences," said Hands Off Cain, an Italian organization working to rid the world of capital punishment.
Islamic leaders warned that executing Saddam could inflame those who revile the US, undermining US President Bush's policy in the Middle East and inspiring terrorists.
"The hanging of Saddam Hussein will turn to hell for the Americans," said Vitaya Wisethrat, a respected Muslim cleric in Thailand, which has its own Islamic insurgency in the country's south.
"The Saddam case is not a Muslim problem but the problem of America and its domestic politics," he said. "Maybe Bush will use this case to tell the voters that Saddam is dead and that the Americans are safe. But actually the American people will be in more danger with the death of Saddam."
Bush called the verdict "a milestone in the Iraqi people's efforts to replace the rule of a tyrant with the rule of law."
Praising the Iraqi judiciary for its independence, the White House denied arranging for the verdict to be announced just two days before pivotal elections in which Democrats are fighting for control of Congress.
"The idea is preposterous," said Tony Snow, Bush's spokesman.
Yet there was a touch of contempt as well, reminiscent of the international response when the United States failed to find the weapons of mass destruction Bush insisted had made Saddam such a threat.
Intervening militarily was "a grave error," said Spanish Prime Minister Jose Luis Rodriguez Zapatero, whose country withdrew its troops from Iraq, contending that conditions there have worsened since the US-led invasion.


| | | |
| --- | --- | --- |
| 1 | 2 | |