Saddam sentenced to hang for Shiite killings
(Agencies)
Updated: 2006-11-05 16:56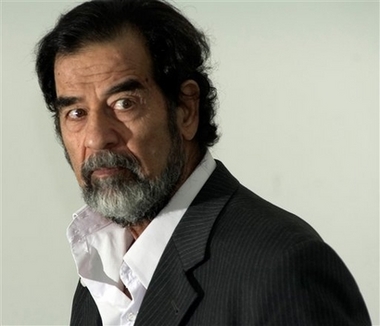 In this photo, former Iraqi leader Saddam Hussein is seen as he is questioned by Chief Investigative Judge Raid Juhi, not seen, Aug. 23, 2005 at an unknown location. Saddam was sentenced to hang on Sunday. [AP]



BAGHDAD - Iraq's High Tribunal on Sunday found Saddam Hussein guilty of crimes against humanity and sentenced him to hang, as the visibly shaken former leader shouted "God is great!"

His half brother and former intelligence chief Barzan Ibrahim, and Awad Hamed al-Bandar, head of the former Revolutionary Court, were sentenced to join Saddam on the gallows.

After the verdict was read, a trembling Saddam yelled out, "Life for the glorious nation, and death to its enemies!"
Special coverage:
Iraq after War and Saddam on trial

Related readings:
Bush hails verdict as milestone for Iraq
Saddam verdict opinion differs worldwide
Round-the-clock curfew keeps lid on Iraq
Chinese experts: Sentence may aggravate situation
Iraq shuts down 2 Sunni TV stations
Rumsfeld OKs hike in Iraqi forces
Bush pledges support for Iraq PM
US death toll in Iraq worst in a year
He initially refused Chief Judge Raouf Adbul-Rahman's order to rise. Two bailiffs lifted Saddam to his feet and he remained standing through the sentencing.

As the proceedings finished, clashes broke out between police and gunmen in north Baghdad's Azamiyah district, which is dominated by hardliners from among Saddam's fellow Sunni sect. In contrast, celebratory gunfire rang out in many other parts of the city.

The verdict was immediately condemned by the head of the second largest Sunni bloc in parliament, who predicted it would spark even greater bloodshed between Sunnis and the country's majority Shiites, who were heavily persecuted under Saddam's more-than two decades of authoritarian rule but now largely control the government and security forces.

"It was not wise and the government, not the court, has gone to the extreme with issuing this sentence, even in advance," Salih al-Mutlaq told the al-Arabiya satellite television station.

"This government will be responsible for the consequences, with the deaths of hundreds, thousands or even hundreds of thousands, whose blood will be shed," al-Mutlaq said.

Saddam and his seven co-defendants had been tried by the Iraqi High Tribunal over a wave of revenge killings carried out in the city of Dujail following a 1982 assassination attempt on the former dictator.

Saddam faces additional charges in a separate case over an alleged massacre of Kurdish civilians. It wasn't clear when a verdict would be announced in that other case, or when Saddam's sentence would be carried out.

Before the trial began, one of Saddam's lawyers, former US Attorney General Ramsey Clark, was ejected from the courtroom after handing the judge a memorandum in which he called the Saddam trial a travesty.

Judge Raouf Abdul-Rahman pointed to Clark and said in English, "Get out."

Guarding against violence, Baghdad was placed under a total curfew, with shops shuttered and pedestrians and vehicles almost completely absent from the streets of the city of six million people. Iraqi security forces and US troops mounted additional patrols, but no major incidents had been reported.

"There is close cooperation between Iraqi and coalition forces in maintaining the curfew," said police Maj. Mahir Hamad Mousa of the al-Khansa station in Baghdad's Jadeeda district ."We have fully prepared for this duty," he said.

The guilty verdict for Saddam is expected to enrage hard-liners among Saddam's fellow Sunnis, who made up the bulk of the former ruling class. The country's majority Shiites, who were persecuted under the former leader but now largely control the government, will likely view the outcome as a cause of celebration.

Even with the verdict imminent, Saddam's lawyers and some Sunni politicians had called for the court proceedings to be suspended.

"It has become clear to the Iraqi people and the whole world that this court is politicized 100 percent," Salih al-Mutlaq, head of the second largest Sunni parliamentarian block, told the Doha-based al-Jazeera satellite channel.

Al-Mutlaq accused the US and Iraqi governments of interfering with the work of the court and said a verdict would further polarize Iraqi society, already traumatized by sectarian violence between Shiites and Sunnis.

"This verdict will be the last nail in the coffin of the national reconciliation plan and the political process," al-Mutlaq said. "I call upon Arab leaders and ... to interfere for the sake of Iraq's unity."

The head of another prominent Sunni group, Harith al-Dhari, said any verdict should be delayed until after the departure of US forces, who toppled Saddam following their March 2003 invasion of the country.

"If this court issues the verdict, I would consider it to be illegal, illegitimate and political," al-Dhari told al-Arabiya, a satellite television channel viewed throughout the Arab world.

Echoing those sentiments, the Association of Muslim Scholars, a hard-line Sunni clerical group, demanded that Saddam's trial be postponed until "the occupation leaves".

"I do believe that this process is politically motivated and not a judicial one," Harith al-Dhari, the association's leader, told the Pan Arab al-Arabiya satellite channel.

One of Saddam's lawyers, Najeeb al-Nu'aimi, said Saddam and his co-defendants had not been given sufficient time to present their cases.

"The court is not neutral. It lacks legitimacy," said al-Nu-aimi, a former justice minister of the gulf state of Qatar.

The curfew, which also covers two provinces neighboring Baghdad where Sunni insurgents are battling US troops and the Iraqi government, was only lightly observed in Baghdad's sprawling Shiite slum of Sadr City, a stronghold of the Mahdi Army militia led by radical anti-American cleric Muqtada al-Sadr.

Local police commander Col. Hassan Challoub said quick reaction teams made up of the Iraqi police, army and the Interior Ministry commandos units were patrolling the area.

"No incident and nothing abnormal is reported so far," Challoub said.

Iraqi Prime Minister Nouri al-Maliki called on Saturday Iraqis to accept the verdict Saddam without violence, but in the next breath declared that the former dictator must get "what he deserves" with the decision that could send him to the gallows.

A Shiite who was forced into years of exile during Saddam's Sunni-dominated rule, al-Maliki had called for Saddam to be sentenced to death.

Saddam and the other seven defendants had been accused of accused of arresting hundreds of people in the Dujail crackdown, including women and children, and of torturing some to death, with 148 people killed in all. Al-Maliki's Islamic Dawa party has claimed responsibility for organizing the assassination attempt.

In the US, President George W. Bush's chief spokesman underscored on Saturday that Saddam's trial was being conducted by an independent Iraqi judiciary, what he called an important component of the country's development.

"These are things that are absolutely vital to building a democracy that will not only sustain itself, but have the faith and support of the populace," said Tony Snow.

In advance of the verdict, vacationing soldiers were recalled to duty in one of the heaviest security crackdowns in Baghdad since the bombing of an important shrine in the city of Samarra in February that unleashed rampant sectarian violence.

New checkpoints popped up on major roads, including within the heavily fortified Green Zone that houses Iraqi government offices and the US and British embassies. A heavy police presence and larger than normal numbers of US troops patrolled the streets.
| | | |
| --- | --- | --- |
| 1 | 2 | |
Most Commented/Read Stories in 48 Hours