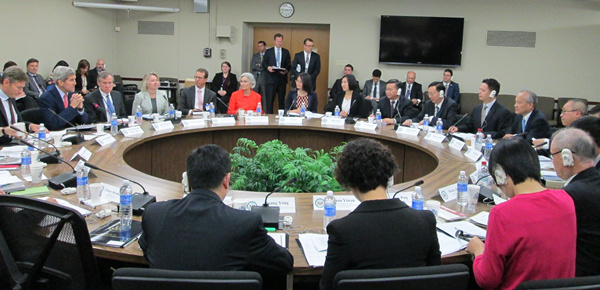 US Secretary of State John Kerry (second from left sitting in the roundtable) and Chinese Ambassador to the US Cui Tiankai (second from right in roundtable) are among several dozen Chinese and US government officials attending the opening ceremony of the 19th round China US Human Rights Dialogue held in Washington on Aug 13-14, 2015.[Provided to China Daily]
In a joint statement at the Human Rights Council on Thursday, the United States and 11 other Western countries expressed concerns over "the deteriorating human rights record" in China and criticized its "suppression of human rights activists", saying that by doing this, Beijing has not only contravened its own laws but also breached its commitments to the international community.
Any effort to push for progress on protecting human rights is of positive significance, but the Western countries' campaign of criticizing China on this issue is from a prejudiced and overbearing perspective. Their behavior is increasingly based on their own national interests, as they are attempting to transform universal human rights into a geopolitical tool for their own use. With such a mindset, their comments on China's human rights are always focused on those "dissidents" who doubt China's established Constitutional system, while ignoring the basic human rights ordinary Chinese people are most concerned about.
For example, self-proclaimed Western "human rights guardians" never take an interest in China's unremitting efforts to reduce and eradicate poverty and inequalities in education and heathcare, nor its efforts to establish the rule of law. In the eyes of some in the West, human rights in China are about the freedom of some confronting its political system and thus any criminal punishments its judicial organs extend to them are against human rights, despite the punishments being in accordance with the country's laws.
While pointing fingers at China, the US should first look at its own poor protection of human rights, as evidenced by its rampant prison abuses, especially in the Guantanamo detention facility, and its widespread gun violence and deep-rooted racism.
There exist no universal and suit-all human rights in the world. China values protecting human rights as much as the US does, if not more. But protecting human rights does not mean endowing those disturbing China's political order with the privilege of immunity from the law.