For three days in the past month, Lu Lianggui woke up before the crack of dawn to wait in line throughout the working hours at Beijing's train station ticket booth. His aim - to get a place on the express train leaving the capital for his hometown of Chaohu in Anhui province, in time to celebrate Spring Festival.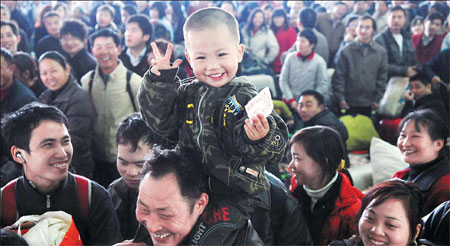 Li Zhuoyao (center), carried by his grandfather, gets ready for his train journey at the main railway station in Fuzhou, capital of Fujian province, on Sunday. [China Daily]
But for the first two days, the 51-year-old migrant worker for a house decoration firm returned to his small rented room, with no ticket in his pockets and an empty stomach to boot.
On day three, faced with dwindling options and the possibility of ushering in the Lunar New Year in Beijing without his wife and son, Lu resorted to buying a hard seat or third-class ticket on a slow train.
"A fast train would take me home in 14 hours. But I'm not so sure about this one these slow trains stop at almost every train station," Lu said.
Many would agree Lu has reason to be worried. Riding on a slow train during peak travel seasons in the country can be daunting, as one online user recently posted on his blog: "You won't want to ride on a slow train again the carriage is left with only standing room at best. Passengers will occupy every space - the aisles, toilets and even the floor space under seats. You better prepare diapers to answer nature's call."
From the near impossibility of getting a ticket on time to a fearsome train ride, these are experiences numerous Chinese countrywide would have had one way or another.
Come Spring Festival, when millions of Chinese throughout the country ready to head home for the all-important family reunion on the economical transport provided by trains, and the situation at railways hogs the headlines.
Trains during the Lunar New Year travel season, which starts on Jan 11 this year, can expect to carry six million passengers at most daily, up to twice that of a usual day operating under normal situations, said Beijing Jiaotong University professor Yang Hao.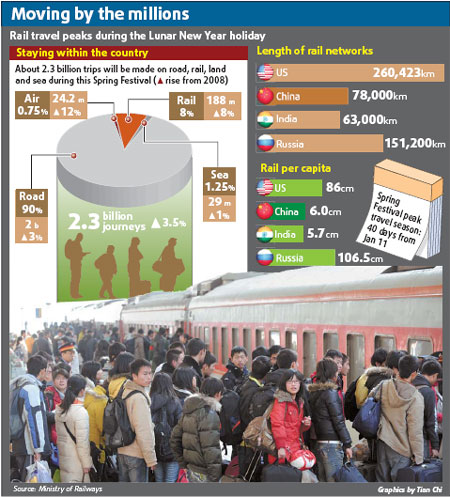 Migrant workers form one of two major sources of passengers during these times, with part of about 200 million workers on the move opting to take trains during the 40-day festival period last year, Yang said.
The workers accounted for up to 40 percent of the total number of passengers during the peak travel period, a survey by railway stations showed. In the southern provinces, where major manufacturing bases such as Guangzhou province are situated, the migrants could account for up to 80 percent of rail passengers, Yang said.
College students make up the second part of the majority of passengers packing trains and stations during the holiday travel season, or chunyun.
Part of the 30 million student travelers during this period were made up of this group in last year's season alone, with most on medium- and long-distance trips, Yang said.
Zhao Jun, 25, a postgraduate student of Renmin University of China in Beijing, said he chose to pay 1,560 yuan ($228) for a 2-hour plane ride home to Chongqing this year, in order to save time he needed to find a job. He returned home by train last year, a trip that had cost him about 200 yuan and 56 hours of traveling time.
While there are also many who travel from city to city for family reunions, Yang said it is the migrant workers like Lu and students like Zhao - traveling from large coastal cities to small inland ones at similar times - who form the burden rail networks must carry.
With Spring Festival this year falling on Jan 26, coming weeks earlier than in previous years, the scene looks set to get worse.
Most students leave school starting from Jan 12, overlapping with the flow of migrant workers. On Saturday, both groups added to a record 5 million passengers, the Ministry of Railways said in a news release.
The record last year for passengers leaving prior to Spring Festival was 4.365 million people.
This perfect storm of overwhelming numbers can end up as such: Travelers blamed the authorities for not taking effective measures in selling tickets, with many tickets ending in scalpers' hands; while railway ministry and transport experts say it is not just the ministry's fault, blaming it instead on the limited capacity of rail networks.
However, the enormous influx of passengers is said to last for only 40 days in a year.
"On normal days, there is no problem securing a train ticket and nobody ever complains about not being able to get one," said Ji Jialun, professor with the Beijing Jiaotong University.
Still, the authorities are not taking any chances. The transport ministry said sending every passenger home is its duty and has taken measures to increase its capacity to cope with the higher passenger volume during the festive season every year.
The measures include adding temporary trains, selling tickets that maximize standing space (which sometimes means passengers will get a ticket but will have to stand for 24 hours or more), and this year, changing all sleeper carriages into seats on these extra trains.
The economic slowdown has also helped to increase passenger capacity. Wang Yongping, the ministry spokesman, said the railway departments transported less cargo like coal and oil this holiday season, so it opened more trains on busy routes partly aimed at making up the loss in freight transport.
Indeed, capacity has been put as a major challenge of the rail network during this time.
By the end of last year, 79,000 km railways have been put into operation in China, Wang said. China has become the country with the longest railways after the United States (270,000 km) and Russia (more than 100,000 km). But the per capita railway length for Chinese is shorter than a cigarette, at about 6 cm, ranking behind more than 100 countries, he said.
As railways have the advantage of lower prices, trains are also the top choice of transport for many travelers. Whenever railway capacity is increased, the added capacity is usually swiftly taken up by demand, Wang said.
According to Beijing Jiaotong University's Ji Jialun, train tickets also cost less than long-haul buses.
For example, a 500-km bus trip from Beijing to Heze in Shandong province costs 200 yuan, but the train ticket for the same journey is only a little above 40 yuan, he said.
The train tickets are low because the railways are run by the government and people tend to regard it as a public welfare entitlement, he said.
To solve these "fundamental problems", the railway administration is now speeding up the construction of railways and aiming to extend the railway network to 120,000 km by 2020.
"When China's railways stretch to 100,000 km long by 2012, it could ease the pressure during the chunyun period," Minister of Railways Liu Zhijun told an annual working conference on Dec 31.
A fast passenger transport network will take shape by then, with bullet trains going at 200 to 350 kmh on tracks parallel to that of cargo transport.
Despite all these solutions provided by the ministry and experts, many are reportedly still unhappy with the current ticket distribution procedure, saying it is not transparent and open.
A survey by Sina.com earlier this month showed 47.3 percent of the respondents believed securing a train ticket in the chunyun period required "influence and unfair advantages".
Another 37 percent of the respondents said ticket scalpers always got hold of the tickets they desired, while only 15.4 percent of the respondents believed the tickets could be secured through normal channels like station booths.
The ministry was blamed for not revealing to the public details like how many train tickets are saved for tour operators and government departments, and how many tickets actually go to the people standing in the freezing winter air outside ticket offices.
There have therefore been increasing voices from the public in recent few years asking the ministry to sell train tickets the way airlines do.
Many people believed it is the way to guarantee ordinary travelers get the tickets in a fair way. A Xinhua News Agency report on Jan 7 showed that 51.2 percent of respondents in a recent survey agreed to adopt the airline industry's real-name registration system in train ticket sales. About 24.4 percent of those polled demanded severe punishment on scalpers and 10.9 percent suggested the introduction of competition into the railway system.
Adopting the real-name system for rail tickets nationwide is not difficult, said Li Jingsong, a lawyer advocating the system.
"There is no technical difficulty in the implementation of the real-name system Besides, it is a good way to prevent scalpers from selling tickets," he said.
But the railway authority does not agree with Li. Zhang Shuguang, deputy chief engineer with the ministry, said last week at a press briefing that conditions now are "not mature" enough for the system.
He said a real-name system will put extra workload on the train stations. "A train now carries about 2,000 passengers.
"While it only takes two more seconds to check the tickets and identities of the passengers under such a new system, it will cost nearly one more hour to complete checking passengers in a single carriage," he said.
During the peak travel season, delays could also lead to crowds in waiting rooms of railway stations and the danger of stampedes, he said.
Yang Hao, the professor with Beijing Jiaotong University, said the identity recognition facilities needed in the real-name system will also add huge costs for the ministry.
"There are 160 airports in China, but more than 5,000 railway stations. Equipping all railway stations with the name-recognition facilities will be very expensive," he said.
He Bolin contributed to the story