Russian history, spinning globe to highlight Sochi ceremony
Updated: 2014-02-07 21:56:15
( chinadaily.com.cn) Lei Lei in Sochi, Russia
Konstantin Ernst, creative producer of the Sochi Winter Olympics opening ceremony, promised a playback of Russian history at Fisht Olympic Stadium on Friday.
"The opening ceremony of the Games is the main television show in the world. When our bid won, and we assumed responsibility for the opening ceremony, we certainly felt the burden of this responsibility. We realized that the opening ceremony carries the name of the country," Ernst said on Friday morning.
"This is why we selected as the main motif for the ceremony our message on behalf of the country, how we see the country, what Russia is all about and to give a few messages about Russian history as well," he said.
The ceremony is set to feature 18 episodes, with one exclusively dedicated to highlighting the Russian revolution and the avant garde era.
The Russians, known for their theatrical and dramatic expertise, will aim high for an event that will be televised to billions of viewers around the world.
More than 3,000 artists will perform, including ballet, acrobatic and circus performances. About 2,000 volunteers will be involved.
Ernst also revealed that the traditional athletes' parade will be presented in a more dynamic fashion.
"We have created a special flooring where an image of the Earth will be projected. The Earth will be rotating, and we are going to project the image of the Earth from outer space, and every time a country is announced, the Earth will rotate in such a way so that we can see the particular part of the globe where that country is," Ernst said.
"There will be a ramp opening, and the athletes will appear from the heart of their country's territory and will walk up on to the stadium, which I think is very much in line with ancient Greek tradition. They will arrive at the stadium just like the ancient heroes of Greece, and they will be arriving from the heart of their nation."
The athletes will march in order of the Russian alphabet, and the Olympic anthem will be sung in Russian by renowned opera singer Anna Netrebko of Russia.
The ceremony will start at 20:14 local time in the Fisht Olympic Stadium, symbolizing the year of the first ever Russian Winter Games.
China Daily in Sochi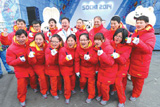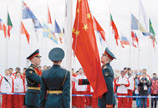 0
0
0
0
0
0
0
0
0
0
0
0
0
0
0