Soccer corruption trials kick off
Updated: 2011-12-20 08:40
By Tang Yue and Liu Ce (China Daily)
| | | | | | | | | | | |
| --- | --- | --- | --- | --- | --- | --- | --- | --- | --- | --- |
|   | | Comments() | | Print | | Mail | | Large Medium  Small | 分享按钮 | 0 |
Two soccer fans raise posters that read: "Rebirth of Chinese soccer" and "Don't let fans down again" on Monday at the gate of the Tieling Intermediate People's Court where Zhang Jianqiang, former director of the Chinese Football Association's referee committee, stood trial. Provided to China Daily
TIELING, Liaoning / BEIJING - Soccer fans braved temperatures of -15 C outside a local court in the northeast city of Tieling as the long-awaited trials for former Chinese soccer officials started on Monday morning.
More than two years after the nationwide clampdown on gambling and match-fixing began in late 2009, Zhang Jianqiang, former director of the Chinese Football Association's (CFA) referee committee and former women's soccer chief, became the first defendant in the Intermediate People's Court of Tieling.
The hearing was open to some officials from the CFA, fans and reporters from four State media. Tens of millions more watched on TV as State broadcaster China Central Television (CCTV) carried part of the trial live.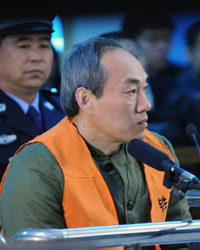 Zhang Jianqiang sits in a Tieling court in Northeast China's Liaoning province on Monday on charges of receiving bribes.
Zhang, arrested in March 2010, was facing charges of bribe-taking. The bribery allegations in 13 cases amount to 2.73 million yuan ($430,000).
Zhang is alleged to have started taking bribes in 1997 when he received 400,000 yuan from the Shaanxi Guoli team and arranged for a referee to be in favor of the club in a critical match. Shaanxi won and got promoted to the second-division of the domestic league.
The top-flight league's winners, Shandong Luneng and Shanghai Shenhua, also got involved. Shandong club allegedly gave Zhang 400,000 yuan after winning the domestic league and the CFA Cup in 2000 while Shanghai paid him 700,000 yuan in 2003 for the title match, which he is said to have split with the referee, Lu Jun.
Zhang did not deny the charges.
"No morals, no criterion, no check and supervision. It was the reality," said Zhang in an interview with CCTV before the trial.
The verdict was not delivered in court on Monday and Zhang could face a sentence of up to 20 years if convicted, law experts said.
Li Zhimin, a former member of the board of directors of Shaanxi Guoli soccer club, also stood trial on Monday. He was accused of accepting 2.5 million yuan in bribes from Sichuan Guancheng club and Shanghai Shenhua club and helping their teams to maintain their league positions or win championships, the procuratorate said.
Li returned all the illicit money.
Several other former high-ranking officials, including Yang Yimin, former vice-president of CFA, will also stand trial later this week. According to an earlier interview, Yang took at least $10,000 from the domestic club. He will face a charge of bribe-taking on Wednesday morning.
Meanwhile, four top referees, including Lu Jun, a 2002 World Cup referee and once dubbed the country's "Golden Whistle", will face trial in Dandong, another city in Liaoning province.
However, the date for the trial of the former vice-president of CFA, Nan Yong, and his predecessor Xie Yalong, has yet to be announced. Yang and Xie have also admitted their bribe-taking in interviews with CCTV.
With the trials ongoing, the country's governing body for the sport released a statement to reiterate its determination to fight corruption.
"Soccer corruption breached the country's law and tarnished the image of the sport as well as the healthy development of soccer in China, leading to a very bad impact on the game," said the statement released by CFA.
"The fight against corruption is a long-time effort. On one hand we need to build a solid defense to prevent corruption. On the other hand, we should deepen the reform of Chinese soccer and improve the administrative system and the supervision mechanism."
China's professional leagues have always been plagued with allegations of gambling and match-fixing which, coupled with the national side's poor performances, have long made the sport a source of disappointment for diehard fans.
And seeing those responsible for the problems taken to court gave comfort and hope to the sport's enthusiasts in the cold morning air. Some fans even held placards reading "rebirth of Chinese soccer" and "Hopefully, the resurrection of Chinese soccer starts right here".
"I've been addicted to soccer since the early 1990s but I haven't been watching recently. My heart is broken," said Dou Gang, 40, who was on a business trip in Tieling and went to the court on Monday morning.
"The series of scandals really drove us mad and they are the disgrace of all Chinese," Dou told China Daily. "But the trial gives us some hope again, I hope this can be a turning point for Chinese soccer."