No alchemy: Bronze turns silver
Updated: 2011-08-30 07:52
By Lei Lei (China Daily)
| | | | | | | | | | | |
| --- | --- | --- | --- | --- | --- | --- | --- | --- | --- | --- |
|   | | Comments() | | Print | | Mail | | Large Medium  Small | 分享按钮 | 0 |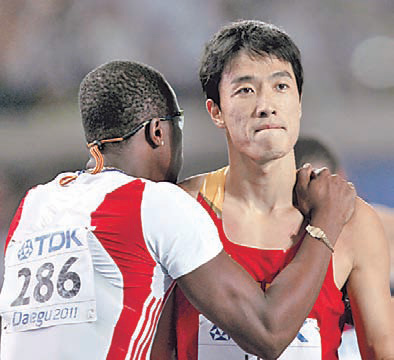 Cuba's Dayron Robles (left) hugs Liu Xiang after the men's 110m hurdles final. Robles finished first but was later disqualified for making contact with Liu, who led at the time. [Photo by Cui Meng / China Daily]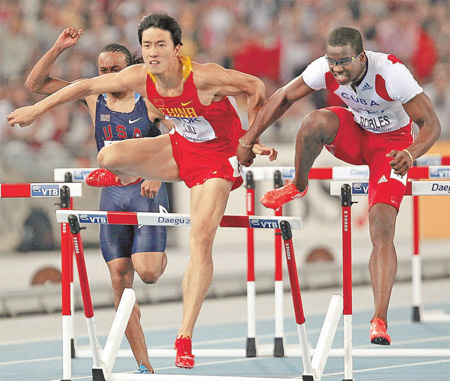 Cuba's Dayron Robles (right) and China's Liu Xiang (left) compete in the men's 110m hurdles final at the IAAF World Championships in Daegu on Monday. Liu led after the final hurdle, but Robles bumped into him and caused him to stumble. [Photo by Cui Meng / China Daily]
Robles wins but is disqualified for obstruction; China's Liu moves up to second as Richardson takes title
DAEGU, South Korea - Maybe it wasn't entirely satisfying, but it sure was dramatic.
Liu Xiang made his return to the World Athletics Championships in memorable fashion Monday night, eventually leaving with a silver medal after a controversial finish in the 110m hurdles.
Liu crossed the finish line in third place, but the IAAF awarded him the silver after Cuba's Dayron Robles was stripped of the gold for bumping Liu, who led at the time.
The title was given to Jason Richardson of the US, who crossed the finish line in second in 13.16 seconds.
Although he failed to win another world championship, Liu said he regretted seeing his friend and rival disqualified.
"I felt sorry for Robles, since we are very good friends," said Liu, the 2007 World Championships winner and 2004 Olympic gold medalist.
"The competition is just a game to me. Everybody should enjoy it. The disqualification is very regretful."
With Liu and Robles in adjoining lanes, Liu was in the lead after the final hurdle.
But Liu stumbled after making contact with Robles' flailing arm, and finished in 13.27, behind Robles' 13.14.
"When I approached the ninth hurdle, Robles pulled me, which made me unbalanced and slowed me down," Liu said. "At first, I thought I would be the champion or at least second, but Robles pulled me.
"If there was no accident, I think I could have won."
Robles apologized after the race, but Liu's coach said it wasn't just a simple hit.
"If it was an arm hit, then it would be a natural thing in the race, but it is very clear that he grabbed Liu's arm after the hit, which is abnormal," said Liu's coach Sun Haiping.
"Liu did a very good finishing in third with such an accident. If there was no accident, it is very possible he would have won, since he was in the leading position after the last hurdle."
Coming back to run in the World Championships after recovering from a serious foot injury, Liu was considered a top gold medal contender along with Robles and David Oliver of the US.
Liu said he's OK with the result.
"I'm satisfied with the performance and there is only little regret in the race," said the 28-year-old. "I have won the gold medals at the World Championships and the Olympic Games, and medals of all colors.
"My aim this time was to win a medal, and I achieved it."
Sun said they will now focus on preparing for the Olympics.
"Liu will have a relaxing period and I will put him back to training gradually," Sun said.
"We will try to improve his ability in the first half of the race in order to avoid any disturbance in the future."
China Daily