Jordan to surprise big guns in Doha

Underdogs Jordan is raring to spring a surprise at the Asian Cup as it did in a miraculous fightback to clinch only its second-ever berth in the continental showcase.
"We want to be competitive although it will be a tough mission in the group that includes Japan, Saudi Arabia and Syria," Jordan coach Adnan Hamad said. "But we still have great ambition and hope to pass the first round."
Both Japan and Saudi Arabia are aiming for a record fourth title.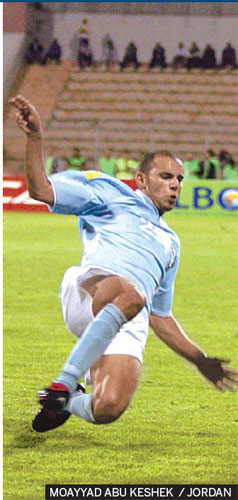 Veteran goalkeeper Amer Shafia said: "Our goal is to achieve the best possible result from our match against Japan that we will enjoy anyway. We seek to be true competitors."
The 28-year-old has a score to settle when the Al-Nashima (Brave Ones) face Japan in their Group B opener on Jan 9.
The Blue Samurai sprang back from 2-0 down to beat Jordan 4-3 on penalties with him between the posts in the 2004 Asian Cup quarterfinals in China. Japan went on to beat the host for its third title.
Hamad, a former Iraq national coach who managed Jordanian club Al-Faisaly in 2006, helped turn Jordan's fortunes in Asian Cup qualifying after he took over the Al-Nashima from Portuguese Nelo Vingada in April 2009.
Jordan had a single point from its first three games, including a goalless draw at home with Thailand, when the 49-year-old Iraqi tactician joined the team.
Under his leadership, the Jordanians lost to Iran 1-0 away but beat it 1-0 at home before another 0-0 draw with Thailand.
Jordan emerged out of the quagmire with a 2-1 home win over Singapore in its last qualifier before which it was still one point behind the two Southeast Asian sides. Iraq beat Thailand 1-0 to finish top of the group.
Hamad, who was named the 2004 Asian coach of the year after guiding Iraq to a fourth-place finish at the Athens Olympics, has brought young players into Jordan's squad, many of whom took part in the 2007 U-20 World Cup.
He said his team included "players that would not only serve the upcoming Asian Cup but World Cup qualifiers and beyond".
Abdullah Deeb, a promising 23-year-old striker who rejoined home league side Shabab Al-Ordon last year after a season with Belgium's KV Mechelen, said: "We want to take our chance and prove ourselves by playing against top teams in the Asian Cup."
He may boost Jordan's firepower with 27-year-old Al Faisaly striker Moayyad Abu Keshek.
Hamad harbors no illusions about their Group B opponents, particularly Japan.
"Playing against Japan will be very difficult particularly because they have gained a lot of experience from international tournaments," he said.
The Blue Samurai reached the last-16 in South Africa last June for its best-ever World Cup finish on foreign soil. Jordan got a morale-boosting 4-1 friendly win over Asian Cup holder Iraq at home in September but crashed out in the group stages of the West Asian Championship it hosted in the same month.
Agence France-Presse