Saudis gunning for another Asian crown

Three-time Asian Cup winner Saudi Arabia believes it is time to end its title drought since 1996, with coach Jose Peseiro hoping to put its World Cup heartbreak behind the team.
Peseiro, who kept his job despite the Saudis failing to qualify for the World Cup for the first time in 20 years, tested new talent and rested his key players at the Gulf Cup, several weeks before the continental showcase.
The Portuguese tactician insisted it was the right decision although home fans criticized him after the Green Falcons lost to Kuwait 1-0 on Dec 5 in the final of the increasingly popular Mideast tournament.
"The Gulf Cup helped us a lot to know the ability of some new players," the 50-year-old coach said.
"I am sure that the Saudi team is going to compete for the title."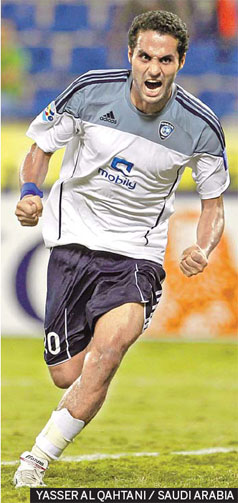 At the 2007 Asian Cup, the Saudis were stunned by dark horses Iraq 1-0 in the final after outlasting fellow three-time champion Japan 3-2 in the semifinals.
Captain Yasser Al Qahtani, a key Saudi striker who scored four goals to share the 2007 Asian Cup golden boot, said his team had a "big incentive to get the Asian title back".
"Saudi fans don't accept the runner-up place like the last one. They want no less than the title," said the 28-year-old Al-Hilal forward, nicknamed "Sniper" for his ability to shoot from anywhere with precision.
"We have a lot of young players in the team capable of playing in this big tournament and we are optimistic to win it in Qatar."
Al Ittihad forward Naif Hazazi, who turns 22 during the Asian Cup, boosts the Green Falcons' firepower and has been widely rated as one of the top guns in the Middle East since his international debut two years ago.
Saudi defender Hamad Al Montashari said: "Our group is not easy but I think it will not be tough for us.
"We have big ambitions and our team is favorite," said the 28-year-old veteran, the 2005 Asian Footballer of the Year, who also won the 2004 and 2005 AFC Champions League titles with Al Ittihad.
Peseiro, a Real Madrid assistant coach in 2003, took the Green Falcons' helm in early 2009 in the middle of their losing World Cup qualifying campaign and has enjoyed a wealth of talent to choose from the well-heeled Saudi leagues.
He has also managed numerous clubs since 1992 with mixed results, including Sporting CP of Lisbon.
An advocate of Portuguese-style passing football, he has preferred to put five men in midfield but is likely to put two strikers up front in Qatar.
His tactics paid off in mid-November at home when his squad forged scoreless draws with Ghana, World Cup quarterfinalists, and Uganda.