Syria gears up for Cup after coach change

Syria is counting on a stop-gap coach for its Asian Cup campaign after the job changed hands three times in three months, but the new man in charge is determined to help the Eagles soar in time.
"We have a short period but this is not a problem," Valeriu Tita said in mid-December when he was named Syria's coach just three weeks before it kicks off its Group B battles against Japan, Saudi Arabia and Jordan.
The 44-year-old Romanian, on loan from Syrian club Ittihad, insisted a few warm-up friendlies would be enough to put the "final touches" on the national squad before its fifth Asian Cup finals, but first since 1996.
Tita replaced Serbian Ratomir Dujkovic after guiding his Aleppo side to win a penalty shootout against Kuwait's Al Qadsia in the final of the AFC Cup, Asia's second-tier club competition, in early November.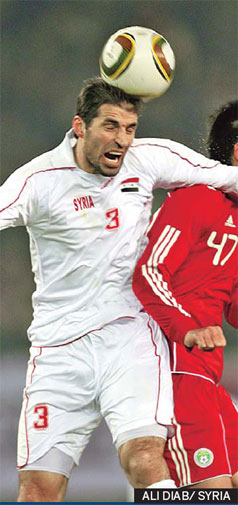 Syria Football Association president Farouk Sirriya sacked Dujkovic for failing to return from a vacation at an agreed time ahead of a friendly against Asian Cup holders Iraq away on Dec 18.
A tactician credited for guiding Ghana to the last-16 at the 2006 World Cup, Dujkovic reportedly revolted against the Syrian FA's decision not to allow him to bring his own coaching staff.
Syria nevertheless took the match 1-0 without him but then lost 1-0 to the same Gulf side four days later at home with Tita in charge for the first time.
Tita may rely on Al-Karamah striker Mohamed Al Zeno, who has scored 14 goals in 36 matches for Syria since 2004, and Sanharib Malki Sabah, a frontman with the Belgian side Lokeren, for goals.
Ali Diab, 28, who joined China's first division Shanghai Shenhua in 2010, can beef up Syria's defense with his aerial strength.
Sirriya admitted it would be a daunting task for the Eagles to reach the Asian Cup knockout stage for the first time. In their Cup debut in 1980, they missed a last-eight berth by one point.
"The 2011 Asian Cup could be the toughest edition for Syria," he told www.the-afc.com, adding that its clash with Japan "could be our toughest assignment because of their experience in the World Cup".
He also described fellow West Asians Saudi Arabia and Jordan as "forces to be reckoned with in the group".
"So, we are not going to leave anything to chance and will do everything to emerge from the group unscathed and ready for the next stages."
The revolving door of coaches started after Syria qualified for the 2011 Asian Cup under homegrown Fajr Ibrahim.
It won four matches and drew twice - including a 3-2 win over second-placed China - and was the only country to remain unbeaten in any group.