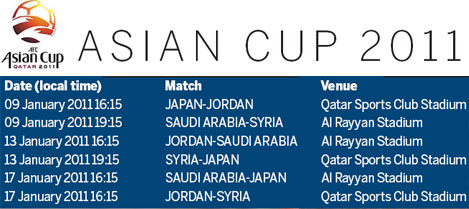 Japan favored to get past tough Middle Eastern foes in the opening phase of tournament
Japan braces for tough Mideast rivals

Japan is taking nothing for granted at the Asian Cup after its best-ever World Cup on foreign soil, as Middle East rivals line up to spoil the Blue Samurai's bid to regain the continental title.
Japan bowed to fellow three-time champion Saudi Arabia 3-2 in the 2007 Asian Cup semifinals, failing to lift a third straight title, and now the two giants are grouped together with Jordan and Syria in Qatar.
Despite a run of warm-up defeats, the Blue Samurai reached the World Cup last-16 in South Africa in June.
"We are aiming high as a matter of course," Japan coach Alberto Zaccheroni said, citing the country's World Cup feat and its triumphs in both men's and women's tournaments at the Asian Games in November.
But the former AC Milan boss said: "I expect tremendous battles ahead.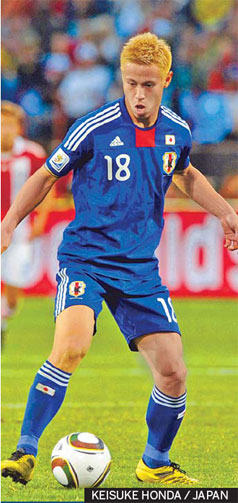 "Australia and South Korea may headline the tournament," he said. "But I feel that teams from the Middle East will be quite formidable as they can fight in conditions quite close to home."
In its opening game on Jan 9, Japan faces Jordan, whom it narrowly defeated 4-3 on penalties in the 2004 Asian Cup quarterfinals before going on to beat host China for the trophy.
Zaccheroni, who had never coached a national team or foreign club before joining Japan, got off to a convincing start after taking over from homegrown World Cup boss Takeshi Okada.
With the 57-year-old Italian in charge for the first time, Japan upset a full-strength Argentina 1-0 at home and fought to a scoreless draw away with cross-strait rival South Korea in friendlies in October.
"Going out with this line-up, we should not fear any opponent," Zaccheroni said as he called up eight Europe-based players, including CSKA Moscow midfielder Keisuke Honda and Borussia Dortmund rookie Shinji Kagawa.
Honda scored in Japan's wins over Cameroon and Denmark at the World Cup. Japan bowed to the Netherlands 1-0 in the other group match and missed a quarterfinal spot by a penalty shootout loss to Paraguay.
Kagawa, 21, has attracted European clubs by scoring eight goals in the first half of the Bundesliga season after moving from J-League side Cerezo Osaka.
"The Asian Cup will be a tournament where we will demonstrate how much we have improved after the World Cup," said Honda, known for his aggressive play and straight-talking.
"Of course, there is only one thing we aim for," said the 24-year-old, who has always vowed to go for the title in any tournament.
Zaccheroni though will be missing World Cup centerbacks Yuji Nakazawa and Marcus Tulio Tanaka through knee injuries, something he called a "great blow".
But Cesena's Yuto Nagatomo, Atsuto Uchida of Schalke and Maya Yoshida of VVV Venlo are ready to guard the Samurai's backline.
"The history of Japanese football won't end at the Asian Cup. I want to use as many young players as possible to prepare well for the 2014 World Cup," said the Italian.