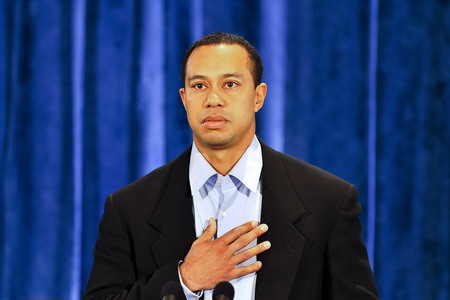 Tiger Woods pauses while delivering a statement to friends and family in Ponte Vedra Beach, Florida, February 19, 2010. [Agencies]
Tiger Woods' status in the world of sports and his contribution to golf is still praised by fellow professionals at the Laureus Sports Academy despite his multiple infidelities to his wife.
Although the golfer was considered less competitive than Roger Federer for the greatest athlete of the past decade by academy members, what he has achieved was not obliterated by the scandals that broke in December.
"I would say he had been a champion at very young age and his consistency is very outstanding. The kind of shot he has made, the kind of excitement he brought to the sport is quite considerable." Edwin Moses, the chairman of the Academy, said.
"You know, things happen to people in life. But if you think of his performance, what he has done for the sport of golf. You know how important he is."
Meanwhile, tennis legend Boris Becker, who is also the vice-chairman of the Academy, showed his belief in Woods' return to the court.
"True champions they have long careers and have to be consistent. They can come back from difficult situations," said Becker. "Tiger has been the most successful golf player and now it is a big challenge for him to come back and win the title again. I believe he can."
Woods won the Sportsman of the Year in the first two years of the awards in 2000 and 2001, and has been nominated for the record seven times in all 11 years, even surpassing Federer by one.
However, the 34-year-old announced he would take an indefinite leave from professional golf to focus on his marriage after he admitted infidelity and the date of his comeback is still up in the air.