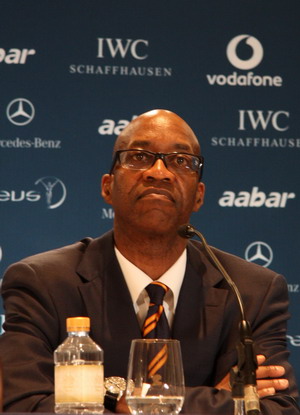 Edwin Moses, chairman of the Laureus Sports Academy. [Tang Yue]
While the winner of Sportsman of the Year of the Laureus World Sports Awards is still up in the air until tonight's awards ceremony in Abu Dhabi, Roger Federer has been considered the best athlete of the past decade by both Edwin Moses, chairman of the Laureus Sports Academy, and Boris Becker, the vice-chairman.
"It is very difficult, it is very difficult … but if I had to choose, I would say Roger because what he did was not only winning but his passion on the court really attracted fans all around the world. Every time he won a big match, he cried and you know it is real," Moses said on Tuesday.
His opinion was shared by tennis legend Becker.
"In my eyes, Roger is the real champion. He won 16 Grand Slams. I come from the world of tennis; I know how difficult it is to win one Grand Slam, but this man managed to win every year one Grand Slam or more over the past seven years," Becker said.
"Of course, Michael Schumacher, Lance Armstrong, Serena Williams and Tiger Woods are good, but for me, Federer would be the one."
Federer has won the Sportsman of the Year four times in a row starting in 2004, surpassing the other four who all have won twice since 2000.
Having missed the nomination last year, the Swiss athlete is competing for this year's crown against last year's winner and Jamaican sprinter Usain Bolt, FC Barcelona's precocious young footballer Lionel Messi, long distance runner Kenenisa Bekele, Tour de France winner Alberto Contador and Italy's seven-time senior MotoGP champion Valentino Rossi.