MIAMI: Tiger Woods is making a wise move by taking a break from the sport but faces major challenges when he returns, sports psychologists said on Saturday.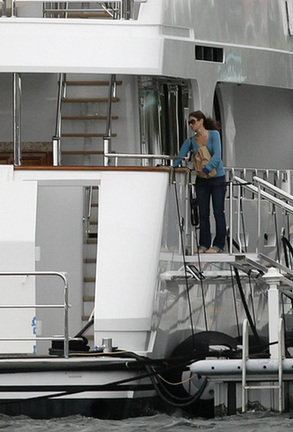 An unidentified woman boards the 155-foot yacht 'Privacy' owned by Tiger Woods docked at Old Port Cove Marina in North Palm Beach, Florida December 12, 2009. [Agencies] 
Related readings:


 Two weeks that shattered the legend of Tiger Woods


 Tiger Woods to take 'indefinite break' from golf


 Text of statement from Tiger Woods


 Late-night show SNL can't resist Tiger Woods jokes

Woods has announced an "indefinite" break from golf and admitted being unfaithful to his wife after a series of relationships with women were reported in the media.
"I think that is a sign he wants to send a strong message to his family that he is serious about addressing the problems," Casey Cooper, a California-based sports psychologist said.
"It really is impossible to do that when you have the travel schedule of a competitive professional athlete."
Palm Beach-based psychologist John F Murray, who has worked with professional tennis and NFL players, said Woods's hiatus could also be simply a case of allowing him to escape the stress.
"It's the only possible thing to do when you are facing such amazing pressure. ... It is too much for him - he needs an escape, some kind of relief from the stress. He definitely needs a break," said Murray.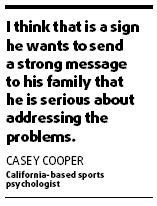 "Tiger isn't just a golfer, he is an empire and he has lots of people advising him. He has probably been advised to take a break, to come up with a plan, come up with a strategy."
Cooper said she doubted the public scrutiny of his private life would affect Woods' performance when he returned.
"For the typical athlete, these types of distractions can obviously impact performance but Tiger has shown time and time again he can manage his off-course life separately from his performance," she said.
"I think his step away isn't about protecting his performance, it is about how he is going to address his family situation. That requires time and his physical presence which he just can't do if he is on the tour.
"Athletes are very all or nothing people, so if he is ... going to fix his marriage he is going to fix his marriage and pour himself into that."
Most observers expect Woods to be back playing some time next year but a major question remains how he will cope with the loss of his previous image as clean-cut family man and Murray said one way of dealing with that could be to embrace the change.
"He could do what John McEnroe did (in tennis) and become the bad boy of golf," Murray said.
"There are ways to do it, I don't know if he could be the bad boy but I don't know how he is going to keep that clean image."
Reuters