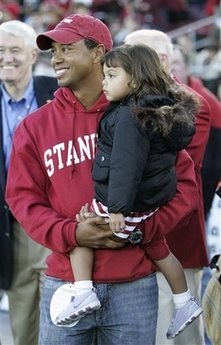 In this Nov. 21, 2009, file photo, Tiger Woods holds his daughter Sam, on the sidelines before the start of a NCAA college football game between California and Stanford in Stanford, Calif., Saturday, Nov. 21, 2009. On his web site Friday night, Dec. 11, 2009, Woods announced that he is taking an indefinite break from professional golf. [Agencies] 
Tiger Woods had to be a happy man as he settled into a seat on his private jet for the long flight home from Australia. His successful comeback year was all but complete, and the rapturous reception he received Down Under was a pleasant reminder of his status as the most sought-after athlete in the world.
Not since the Beatles toured more than 40 years ago had the Aussies laid out such a welcome. Woods got a $3 million check just for showing up, the arrival of his jet was televised nationally, and fans jammed every fairway and green just to be able to say they saw him.
As he headed out, someone mentioned he had never seen such a frenzy at a tournament.
"I never have, either," Woods said.
Always in control, he teased them with a vague promise he would return. If he did, they could be sure it would be on his own terms, and they could be sure the price would go up.
The flight finally over, there was some time to recharge before capping the season with his own elite tournament in the hills north of Los Angeles. In between, Woods would fuel the jet for a quick trip to Stanford and induction in the school's athletic Hall of Fame.
He appeared on the sideline that night as honorary captain of the Big Game against California. For those lucky enough to be holding cameras, it was the perfect photo op of what seemed to be the perfect, blended All-American family.
Related readings:


 Tiger Woods to take 'indefinite break' from golf


 Text of statement from Tiger Woods


 Woods taking break from golf, admits infidelity


 Tiger Woods taking 'indefinite break' from golf


Sponsors give Woods cold shoulder over sex row
The son of an African-American military man and Thai woman stood in his red Stanford sweat shirt, holding a red Cardinal hat in one arm and his 2-year-old daughter in another. His equally photogenic Swedish wife, Elin, stood next to him, wearing dark glasses with a scarf wrapped fashionably around her neck.
The day before, Woods had answered some questions for the 1.3 million followers of his Facebook page. The last one came from a fan named Rupert in Houston, who wondered how hard it was to leave his family and travel to tournaments.
"It's very difficult to leave Elin and the children, and I'm sure it's only going to get tougher," Woods replied.
Woods couldn't have known how tough things were going to get.
The first indication outside the Woods household that things might not be what they seemed came from the National Enquirer, which ran a story in its Thanksgiving week edition alleging that Woods was having an affair with a New York woman named Rachel Uchitel, who has denied it.
Inside the house, though, it might have been different. Another alleged mistress, Jaimee Grubbs, would later provide Us Weekly magazine a voice mail she said came from Woods two days before Thanksgiving, asking her do him a favor.
"Um, can you please, uh, take your name off your phone," said a man who identified himself as Tiger. "My wife went through my phone and, uh, may be calling you."
A few days later, people across the nation standing in lines to buy things on Black Friday heard some startling news: Woods had been seriously injured in a car accident outside his Florida home and was taken to a local hospital.
For many, shock turned to relief when word came later in the day that the accident and the injuries were minor and Woods was back home recuperating. But the questions were already starting to come.
Where was Woods going at 2:25 in the morning? How could he wreck his Cadillac Escalade so badly coming out of the driveway? Was it possible he could have been drunk or on drugs?