LeBron James showed he doesn't need practice to stay at the top of his game.
After resting for two days because of back spasms, James scored 33 points to rally the Cleveland Cavaliers from a 14-point deficit to beat the New Jersey Nets 104-83 Wednesday night.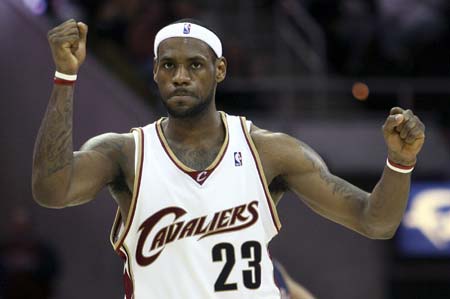 Cleveland Cavaliers LeBron James reacts during the fourth quarter of their NBA basketball game against the New Jersey Nets in Cleveland, April 9, 2008. [Agencies] 
The NBA's leading scorer moved stiffly at times during his 35 minutes on the floor, though he shot 11-for-21 from the field, made 10-of-13 from the line, grabbed seven rebounds and had eight assists. All the more impressive since he didn't practice Monday and Tuesday and a decision whether he would play against the Nets wasn't made until Wednesday morning.
"I'm going to do what I have to do to help us win," he said. "I didn't feel 100 percent, but I felt I could do everything in my arsenal that needs to be done for us to win."
It was enough to keep the Cavaliers two games ahead of fifth-place Washington for home-court advantage in the first round, with Philadelphia another game back and Toronto a game behind the 76ers. All four teams won at home as they jockey for seeding in the Eastern Conference playoffs.
The Wizards beat Boston 109-95 to win the season series over the league's top team; Philadelphia edged Detroit 101-94; and Toronto cruised past Milwaukee 111-93 to snap a three-game losing streak.
In the other games Wednesday night, it was: Orlando 115, Chicago 83; New York 109, Charlotte 107; New Orleans 122, Minnesota 90; Houston 103, Seattle 80; and Phoenix 96, San Antonio 79.
At Cleveland, the win came at an opportune time for the Cavaliers, who had lost six of eight coming in — including two straight at home.
For much of the game it looked like Cleveland's troubles would continue. The Nets led 67-53 midway through the third period before the Cavaliers went on a 23-7 run, which saw James score eight points.
Cleveland led 76-74 going into the fourth quarter. Bostjan Nachbar's 3-pointer to begin the period gave New Jersey a one-point lead, but that would be New Jersey's last field goal of the game. The Nets went scoreless on 10 straight possessions and didn't score again until Vince Carter's two free throws with 4:36 left pulled them to 87-79.
New Jersey was 1-of-20 from the field and scored nine points in the fourth.
At Washington, Antawn Jamison returned after missing two games with a shoulder injury to score 27 points as the Wizards ended Boston's seven-game winning streak and became only the second team to win the season series against the Celtics.
"It says a lot to beat them three games to one throughout the regular season," Jamison said. "It gives us the confidence to know that we can match up with them. We're taking their best shot."
Gilbert Arenas, in his third game back after a 66-game absence due to knee surgery, added 13 points on 5-for-14 shooting in a relatively low-key 24 minutes.
At Philadelphia, Andre Iguodala scored 25 points, hitting a season-high four 3-pointers, and Samuel Dalembert added 20 points and 13 rebounds for the 76ers. Willie Green scored 15 and Lou Williams had 12 points and seven assists off the bench.
Having locked up the No. 2 seed in the East, the Pistons once again gave their reserves significant minutes.
Philadelphia snapped a five-game home losing streak to Detroit and split the season series. Winners of 22 of their past 30, the Sixers need to split their final four games to ensure their first winning season since 2004-05.