China's youthful hoop sensation Yi Jianlian had a roller-coaster first year in the NBA.
He dunked on Dirk Nowitzki and Gerald Wallace, and his first match-up with Yao last November attracted 200 million viewers in China. But like most rookies, his year was plagued by problems with consistency and stamina as well as injuries.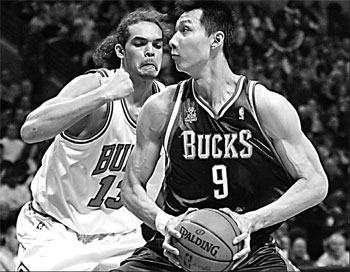 Milwaukee Bucks' Yi Jianlian (right) spins toward the basket as he is defended by Chicago Bulls' Joakim Noah during the second quarter of an NBA game last month in Chicago. AP
However, his life will be simpler after he joins the national team training camp in Beijing this month, and the only target in his mind is to brush aside his Athens Games nightmare this summer in Beijing.
As China's youngest player to play in the Olympics, then 17-year-old Yi saw his game deteriorate, even though the team equaled its best record in history with an eighth-place finish.
The skinny teenager averaged a miserable 2.2 points and 3.1 rebounds in four games he started against international powerhouses, leading team captain Yao Ming to publicly slam Yi and his teammates for being "short of motivation" with "no winning desire at all".
"It was not a pleasant memory for me," Yi told Basketball Pioneer newspaper. "I was too young to handle the things on and off the court. I tried my best, but all I could do was get pushed away by those European big men and I struggled to score a point. I was very disappointed about it."
Despite cutting his season short due to a knee injury, Yi said his first NBA journey, in which he averaged 8.6 points and 5.2 rebounds in 25 minutes per game, was a fruitful experience.
"I take the experience as a motivation for me. After spending a whole season in the NBA, I am a lot stronger and have a better understanding about the game.
"I am so happy to have a second chance to play in the Olympics. I think that right now I'm just preparing my heart for it. I'm working and struggling in practice to get my skills up to be ready for the Games. It's definitely helping that I'm having this NBA experience."
The 21-year-old from Dongguan, Guangdong province, spent his rookie season with the Milwaukee Bucks, having been the No 6 overall draft pick last year. He is the main player expected to help all-star center Yao in China's bid to improve upon its result in Athens.
Basketball has recently become China's most popular sport, boasting massive support and exposure and an estimated 350 million fans. But aside from its satisfying finish four years ago, China has never quite gotten over the hump on the international stage, and after Yi and Yao, the talent level drops off considerably.
State media have criticized the Chinese Basketball Association (CBA) for its low quality and poor management having generated precious few elite athletes since the 1990s.
The CBA's Most Valuable Player (MVP) Zhu Fangyu only averaged 5.8 points and 3.3 rebounds per game at the Athens Games. His stats improved slightly to 7.2 and 3.6, respectively, at the World Championships two years later in Japan.
But Yi, the fourth Chinese player to join the NBA after Menk Bateer, Wang Zhizhi and Yao, believes China has what it takes to reach its Olympic goal of exceeding its Athens finish.
"Though we don't have so many NBA players like Spain or Argentina, the improvement we made over the past four years gives us confidence that we are able to play good basketball at the Games," he told Sohu.com.
"The team played more international games than before and all the players are more experienced and they have a lot of knowledge about their overseas rivals. So I think we can be a force at the Games."
NBA experience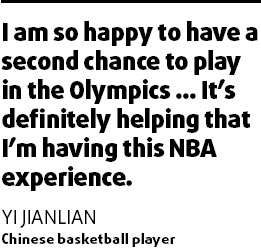 After a standoff with the lowly Bucks franchise following the NBA draft in June, Yi, dubbed an "unofficial ambassador between China and Milwaukee" by Bucks fans, started the first 48 games of the season, averaging 8.7 points and 6.1 rebounds as a starter. It was the second-best scoring average among all rookies, followed only by Seattle's presumptive Rookie of the Year Kevin Durant.
But his performance suffered a steep decline after the all-star break, as he was bothered by wrist and shoulder injuries. There was speculation that he had hit the so-called "rookie wall".
Yi agreed it was a case of fatigue.
"I want to play good and that's what I'm trying to do," Yi told the Milwaukee Journal Sentinel (jsonline.com) through his interpreter. "Right now, the reason I feel I'm playing not so good is that I'm tired. I've been playing since last summer, all through this season, all these games without a stop."
Yi's coach and teammates can understand his weariness.
"I just wanted him to keep his head up and chin up and keep battling," Bucks coach Larry Krystkowiak told the Milwaukee paper. "It was just a pat on the back and a reminder that all players go through different stuff in the league - ups and downs - and to not let it get to him. He's as hard on himself as anybody, so I was reminding him to have some patience with himself."
"All rookies go through it, no matter who you are," Bucks point guard Mo Williams said. "It's a lot mental now. He has to just continue to work and get better ... just get better with everything."