Miguel Angel Jimenez, one of the most popular players ever to grace a BMW Asian Open field, returns to Shanghai's Tomson Pudong Golf Club from April 24-27 as one of the $2.3 million tournament's star attractions.
The flamboyant Spaniard, known as "The Mechanic" because of his love of cars and his ever-present cigar, has played in all seven BMW Asian Opens since the tournament debuted in Taiwan in 2001.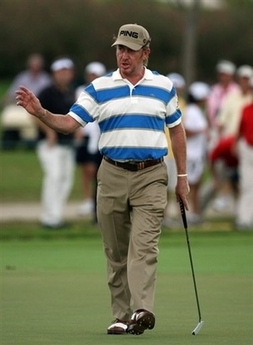 Miguel Angel Jimenez of Spain birdies the 17th hole during the first round of the 2008 World Golf Championships CA Championship at the Doral Golf Resort & Spa, on March 20, in Miami, Florida. Australian Geoff Ogilvy, the 2006 US Open champion, and Jimenez shared the lead on 65 with American Stewart Cink on 66. [Agencies]
After a victory in 2004 and numerous top-10 finishes over the years, Jimenez said he was eager to return to the winner's circle since Asia is a region where he feels comfortable and has performed well. His last victory came in November at the Hong Kong Open when he beat Asian stars K.J. Choi and Thongchai Jaidee and Swede Robert Karlsson by one stroke to end a two-year winless streak.
"I love coming to Shanghai and Asia. It's always so much easier to play well when you are relaxed and enjoying yourself. I played well in Shanghai, Munich and more recently at Wentworth in England. Let's hope I can keep it up."
Last year Jimenez finished tied for 10th at the BMW Asian Open, tied for fifth at the BMW PGA Championship in London and tied for 18th at the BMW International in Munich.
The 44-year-old Malaga native, who needs one win to complete his BMW hat trick after claiming both the BMW Asian Open and BMW International in 2004, a career-best year when he won four times, called Tomson Pudong a "great golf course" where there are many "good but tough holes".
Of his many visits to China, Jimenez, a winner of 14 European Tour titles, said he was impressed by all the changes he had witnessed over the years, particularly in golf.
"Wow! You can see just how much golf has taken off in China. Not only are there some really great Chinese golfers playing the world tours, but the knowledge of the spectators on the course has grown so much. They now appreciate golf so much and are so enthusiastic. The warm reception that I receive when I play in Shanghai is so generous and I love returning there each year."
Jimenez, famous for his trademark ponytail, has become a particular favorite with local fans and can often be seen surrounded by a mob of people at tournaments signing autographs, all the while puffing away on his cigar.
"My favorite Cuban cigars are Partagas and Cohiba. It depends on what time I am playing of course, but generally I smoke before and after a round but never during a tournament.
"I will sometimes smoke a cigar during a practice round. I find it very relaxing to smoke a cigar while enjoying an espresso coffee after dinner in the evening."