The head coach of China's swimming team has expressed pessimism about the prospect of Olympic gold after the nation's best swimmers performed poorly at the National Swimming Championships, an Olympic qualifying event.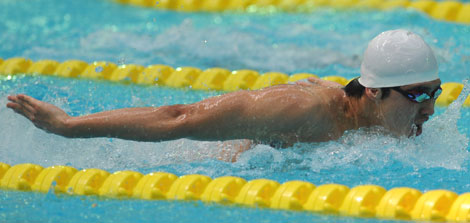 Wu Peng competes during the men's 200m butterfly event at at the National Swimming Championships, April 2, 2008. Wu is expected to win medals at the Beijing Olympics. [Xinhua]
"We have the confidence to do our best, but we really have no specific event that will be able to produce a gold medal at the Beijing Games," said Zhang Yadong after the tournament concluded on Tuesday.
Zhang's comments were in sharp contrast to those made by the chief official of the sport's governing body.
Shang Xiutang, deputy director of the China Swimming Administrative Center has insisted that China must win at least one gold medal in Beijing, otherwise "the swimming team will become a black sheep in the sport's history".
A series of new world records set in Europe and Australia and China's unconvincing showings at the national championships have added more heat to a head coach already under intense pressure.
"So many world records have been set in Europe and Australia, but we only managed to break two Asian records in the tournament," said a dismayed Zhang. "So far there is no world record holder from China. It means we lag far behind the world.
"We did break six national records, which gives the athletes some sort of confidence. But it does not mean we'll be able to grab a gold. I tell you that so far I do not see any chance for gold in the sport."
There will be 32 gold medals up for grabs at the Olympics, making it the second most prolific sport behind track and field.
But China, which is looking to top the gold-medal table as host, has struggled to catch up to the rest of the swimming world in the past decade.
Since its prime in the 1992 Barcelona Games, when China won four golds, the squad managed just two golds in the following three Olympics (one in 1996 and one in 2004).
Zhang said the media is partly to blame for the athletes' inconsistent performances.
"The Media expected too much from the team and they talked so big about some of our swimmers' futures, as well as our Olympic chance.
"The Media put a lot of pressure on us, especially the younger swimmers. They were at a loss as what to do after it exaggerated their ability and potential."
The national team's closed-door training system was another target of criticism.
"China's swimming is too isolated from the world," said former Australia head coach Otto Sonnleitner, who has coached the Shandong provincial team.
"China should learn from Japan and South Korea to develop its training methods by inviting high-level coaches from swimming powers like the US and Australia."