HOUSTON - The Houston Rockets beat the Los Angeles Lakers 104-92 on Sunday to claim their 22nd consecutive victory and take sole possession of first place in the Western Conference.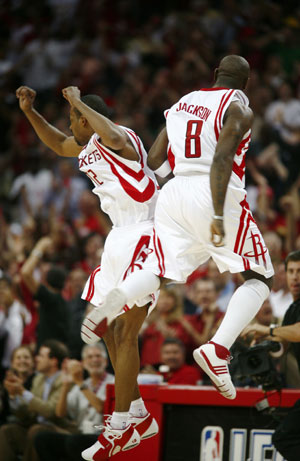 Houston Rockets guard Rafer Alston (L) and guard Bobby Jackson (8) celebrate in the final seconds as they defeated the Los Angeles Lakers for the team's 22nd consecutive win during their NBA basketball game in Houston March 16, 2008. [Agencies] 
The winning streak is second only to the Lakers' 33-game run in the 1971-72 season. Sunday's win pushed the Rockets to 46-20 while Los Angeles dropped to 45-21.
"These guys, they keep bringing it game after game, and that's what we have to do," Rockets coach Rick Adelman said. "It's a great win."
Rafer Alston scored a career-high 31 points, picking up the slack for an out-of-sorts Tracy McGrady, who finished with 11 points.
Lakers coach Phil Jackson praised the Rockets defense and team play.
"They share the ball, their defense is solid. I'm sure their three-point shooting hasn't been like that in the past, but Tracy had probably as poor a game as he's probably played and they were still able to win," he said.
Kobe Bryant hit just 11 of 33 shots to end with 24 points for Los Angeles, which had come into the game tied with the Rockets for the best record in the West.
The Rockets lost All-Star center Yao Ming for the season with a foot injury 10 games ago, while the Lakers played without center Pau Gasol, who injured his ankle in a game against New Orleans.
The Rockets, who last tasted defeat on January 27 against Utah, host the NBA-best Boston Celtics on Tuesday.
"We had a challenge today - we had to beat the Lakers to get that (top) spot, and we did it," said Adelman.
"Now we have the best team in the East coming in here and that will be our next challenge."