Big-name Chinese freestyle skiing aerialists Han Xiaopeng and Li Nina will be absent from the upcoming 11th National Winter Games, which will be held from January 18-28 in Qiqihar, a city in Northeast China's Heilongjiang Province.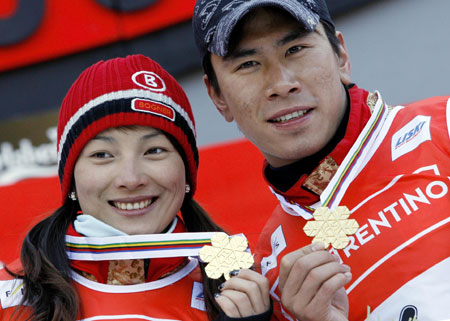 Li Nina (L) and Han Xiaopeng pose with their gold medals at the 2007 Aerial World Championships in MadonnadiCampiglio of Italy March 10, 2007. [Xinhua] 
According to Ren Hongguo, deputy president of the Chinese Skiing Association, their absence is due to the fact that Heilongjiang and Liaoning provinces, both of which sponsor the training of the skiers, failed to reach an agreement about which province should represent each skier at the National Games. For now, their absence will solve the tricky problem, albeit indirectly.
"Preparation for the 2010 Vancouver Winter Games is the priority for the national teams. Therefore, Han and Li will miss the National Winter Games due to an overlapping schedule," Ren said.
Han and Li's two young teammates Guo Xinxin and Wang Jiao will also miss the National Games for the same reason.
Han, a gold medalist at the 2006 Winter Olympics and the 2007 world champion, and Li, the 2006 Winter Olympic silver medalist and also a 2007 world champion, are now preparing for the two FIS (International Skiing Federation) World Cup events from January 18-26 in the US and Canada.
Although they train at the Shenyang Sport University in Liaoning Province, Han and Li have been registered as athletes of Heilongjiang Province since 1995, Jiang Yueqing, an official from Heilongjiang snow sports training center told the Beijing News. But a Liaoning official said that their transferring contract with Heilongjiang expired last May.
It is not the first time such an issue has come up for star athletes in China. Snooker player Ding Junhui was claimed by four cities and provinces during the registration stage for the Third China National Sports Congress last year.
The 2004 Athens Olympic Games weightlifting gold medalist Zhang Guozheng was also trapped in a contract dispute with Yunnan and Shanxi provinces last year.