Double amputee Oscar Pistorius did not get where is today by listening to people tell him what he can and can't do. He got there, at least in part, thanks to his dad.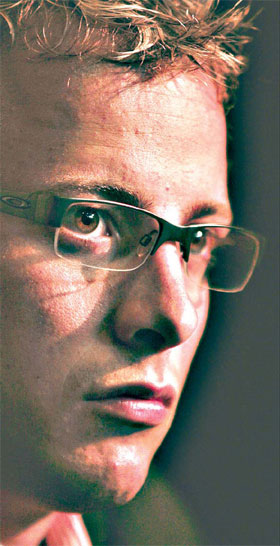 South African double amputee Oscar Pistorius looks on during a media briefing in Pretoria, South Africa, on January 11. [Agencies] 
Henke - the man who fashioned Oscar's first pair of crude, carbon-fiber prosthetics in an airport hangar in Pretoria years ago using rough photographs as a guide - has championed his son's cause for as long as he can remember, and he remains hell-bent on proving his son is no "Cheetah."
"Oscar's not going to go away," he told China Daily by phone from his home outside Pretoria. "He is not as fast as he is because of his (Cheetah) blades, he is as fast as he is in spite of his blades."
Perhaps not since Tiger and Earl has a father-son relationship in the world of sport merited quite such attention.
Henke had to weather the storm when Oscar's mother died while the boy was still a young teenager, and he has remained firmly in his son's corner ever since.
Pistorius senior has vowed to seek arbitration or further legal action in a bid to quash Monday's official ruling by the IAAF that bans his son, and others like him, from racing in the Olympics.
"If arbitration does not give us the answers we are looking for, we will go to court," he said.
The ruling was based on several days of independently commissioned testing by Professor Peter Bruggemann in November at the Sports Institute of Cologne. The tests showed that the Ossur-made, j-shaped blades give Oscar an "unfair advantage" by returning up to 30 percent more energy than blood, flesh and bone.
The case has been riddled with controversy since the IAAF fast-tracked a rule change last summer banning "technical aids" from the Olympics in apparent response to Oscar's bid. It then quickly withdrew the amendment and opted for a more scientific approach.
Leonard Chuene, South Africa's president of athletics and an IAAF council member, knows it was by no means an easy to decision for the IAAF.
"It's a blow for people with disabilities, definitely. They see it as one of their own being disriminated against," he said. "But there are two schools of thought here. Able-bodied athletes think the playing field has now been leveled, and this guy with an unfair advantage removed."
While Henke admits the prostheses do act differently from regular legs, he says they alone cannot make someone run 400m in 46.36 seconds, Oscar's personal best.
"He is officially the second-fastest 400m runner in South Africa," Henke said. "If our 4x400m relay team qualifies for the Beijing Games, Oscar should be on it."
Oscar would still have to come down by 0.8 seconds to meet official qualifying times. While this is possible, forcing the IAAF to capitulate is unlikely - at least before the Beijing Games that begin on August 8.
"Surely there are some benefits from the blades, for example they are more streamlined than an athletes' legs, but in the bigger picture, these considerations are immaterial," Henke said.
For Henke, all this controversy is nothing new.
Back when Oscar was still in school, Henke had to contend with cries of foul play when the other boys at his son's wrestling club got upset when Oscar started winning. They said his heavy prostheses gave him an unfair edge.
Henke was there when Oscar accidentally bloodied some of his water polo opponents in the swimming pool with his robotic legs; he drove him to rugby practice before a knee injury ended Oscar's rugby-playing career; and, of course, he was there when his mother died.
In fact, it was his idea that Oscar take up running in the first place.
"We were on holiday somewhere on the coast in September 2003 and he said stop the car because he wanted to race me," Henke recalled. "I could not believe it when this young fellow on prosthetic legs - which, at the time, did not even have ankle joints - beat me twice. I was shocked."
He responded by driving to the University of Pretoria and seeking guidance from physiologists, who told him that Oscar's hypertrophied lower-back and gluteus muscles were the strongest they had ever seen on someone that age.
Oscar - who had both legs amputated from below the knee when he was 11 months old as he was born without fibulae - went on the break world records in the 100m, 200m and 400m. He is also the defending 400m gold medalist and 100m bronze medalist from the 2004 Athens Paralympics.
Henke said it is ironic Oscar has been classed as having an advantage over other Olympians, but is deemed fit to race slower Paralympians.
"It flies in the face of all logic," he said. "What they are in effect doing is placing the Paralympics above the Olympics."
But Chuene doesn't think the case is as black and white as Henke makes it out to be.
"Who knows exactly where the truth lies, he said. "But at the end of the day, while we would love to have him on our team, there are rules and laws governing every sport."
Henke admits Brueggemann's findings may have validity, but he is not yet ready to accept they are complete.
"What I hope to do now is get two or three different institutions, like sports departments and scientific bodies, to sit down together and map out a way of comprehensively testing Oscar," he said.