SHANGHAI - Ferrari's Kimi Raikkonen turned the Formula One title battle into a three-way fight to the last race in Brazil on Sunday with victory in China after championship leader Lewis Hamilton skidded out.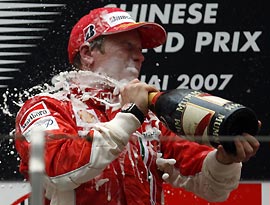 Ferrari Formula One driver Kimi Raikkonen of Finland celebrates his winning of the Chinese F1 Grand Prix in Shanghai October 7, 2007. [Reuters]
Hamilton's double world champion team mate and closest title rival Fernando Alonso finished second with Ferrari's Brazilian Felipe Massa third.
On an afternoon of delight for Ferrari and heartbreak for Hamilton, who had hoped to become Formula One's first rookie champion with one race to spare, the Briton's overall lead was trimmed to four points.
Hamilton has 107 points, Spaniard Alonso 103 and Finland's Raikkonen 100 after taking the 200th win of Ferrari's grand prix history.
"I'm disappointed for the team, the battle goes on to Brazil," said 22-year-old Hamilton, besieged by reporters on his return to the paddock.
"I can still do it."
The Briton started the race with one hand on the crown, needing only to win or finish ahead of Alonso and Raikkonen to become the youngest of champions.
Instead, at the worst of moments, he suffered the first retirement of an extraordinary season in which he has set a string of records.
"Obviously I was gutted when I got out of the car as I hadn't made a mistake all year and to do it on the way into the pits is not something I usually do," he said.
Triple Chance
Raikkonen, whose cause had looked desperate only a day before, has emerged as a renewed threat to McLaren's hopes of a first title since Mika Hakkinen in 1999.
The final race of the season at Sao Paulo's Interlagos circuit on October 21 will see three drivers still in contention for the first time since 1986.
"We're back in the championship and it'll be interesting in the last race," said Raikkonen, who took his career tally of wins to 14 with his fifth of the season.
"Anything can happen, we just have to try to win the last race and then see."
Alonso, who had said after crashing out in Japan last weekend that he needed a miracle to retain his title, allowed himself a smile but was still pessimistic about his chances.
"It was maybe not a miracle, but something similar," he said of Hamilton's misfortune.
"It will still be very difficult for the championship," added the Spaniard. "I know that it will not be easy to take the four points off Lewis.
"I still need something really dramatic if I want to win. With a normal race it will be impossible."
Hamilton had led Raikkonen from pole position while Alonso lagged in fourth place after trying and failing to pass Massa for third at the start.
Neither of the leaders changed their wet tyres at the first pitstops, despite the tread being almost worn smooth, and Hamilton was already struggling to control his car before the second stop was due.
Raikkonen had overtaken him and Alonso was closing the gap in third place when he tried to pit and slid off the pit lane approach and into the gravel.
Marshals tried in vain to shift the bogged down car, with Hamilton keeping the engine running in a futile attempt to escape as the wheels spun.
Toro Rosso's German Sebastian Vettel finished fourth, his team's best performance by far and also their first points of the season, with Briton Jenson Button a surprisingly strong fifth for struggling Honda.
Italian Vitantonio Liuzzi was sixth for Toro Rosso, with Nick Heidfeld seventh for BMW Sauber and David Coulthard taking the final point for Red Bull.