Zhu Lin, China's Olympic badminton hopeful, overcame Wang Chen of Hong Kong, China, 21-8, 21-12 in the women's singles final to win her first world championship here on Sunday.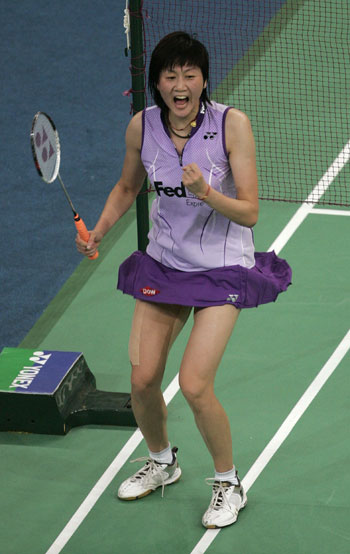 China's Zhu Lin celebrates after winning her women's singles final match against Wang Chen of Hong Hong, China, at the World Badminton Championships in Kuala Lumpur August 19, 2007.[Reuters] 
They had met four times, all won by Wang Chen. Their last meeting was in Indonesian Open when Zhu squandered a huge lead to lose.
In the first game, Zhu led 4-0, controlling the game and winning 16 clear winners against Wang's three. Zhu closed out the game 21-8.
In the second, Zhu led at the half of the game 11-8. Then Wang seemed to be inundated with unforced errors, losing 12-21.
"I am very excited. I do have some expectations for this match. Before the match, I never beat her. But I have no pressure and give it all."
"I think my sound preparation does work for my win. I have good analysis of her techniques and learn how to contain her. After years' major tournaments, I have become more mature," said Zhu.
"Exits of Zhang Ning and Xie Xingfang offer a chance for me. I should shoulder the responsibility. It's really a tough challenge for me but I turned pressure to motivation," added Zhu.
It's Wang's second worlds final after a loss to China's Ye Zhaoying in 1997 edition.
"I am really disappointed about the result since it is my last worlds. Actually I have recovered well from yesterday's match. I have tried my best," said Wang.
"Zhu played faster and I don't have good chances in back court play. I just can not keep up with her speed and make quite a few mistakes."
Wang plans to retire after the Beijing Olympic Games. As for the Olympics, Wang has no special preparation for it yet.
"What I need to do is to stay away from injuries and illnesses. But I do want a medal if I qualify for the Games."