China, as a permanent member of the UN Security Council, has continued to communicate and coordinate with all concerned parties, including Israel, to play a constructive role in promoting the Middle East peace process.

China has sent its special envoy on Middle East affairs to mediate with peace talks, and has asked Israel and the Palestinians to treat the resumed negotiations seriously and put good faiths in them, stopping provocations and creating favorable conditions for fruitful talks, said Wu Sike, Chinese special envoy on Middle East affairs.



China urges Israel to carry out UN resolutions in a comprehensive and serious manner, and lift the blockade on the Gaza Strip.

"China's prestige as a great nation has given it an international leverage and balanced positions," Palestinian President Mahmoud Abbas said in an interview with Xinhua in April 2010.

 Chinese envoy urges progress on Mideast peace


 Abbas stresses China's role in Middle East peace

China has consistently opposed (and will oppose) nuclear proliferation. But it also opposes any attempt to take advantage of the sanctions to attack or even weaken Iran. The accuracy and reliability of intelligence reports on whether Iran is developing nuclear weapons will continue to test the international community.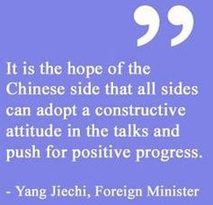 Officials from China sat with those from Britain, France, Germany, Russia and the United States, and European Union's top diplomat around a table for two-day negotiations with Iran over its disputed nuclear program earlier in December in Geneva.
China's stance to Iran's nuclear development has always been very practical," said Fathollahi, Mohammad Ali Fathollahi, the deputy Iranian Foreign Minister in charge of Asia and Oceania Affairs.



 Comment: Sanctions on Iran, dilemma for China


 Comment: No need to sanction Iran