ISLAMABAD, Pakistan - China has pledged $250 million in flood aid to Pakistan and sent rescue and medical teams to assist in the worst-hit areas.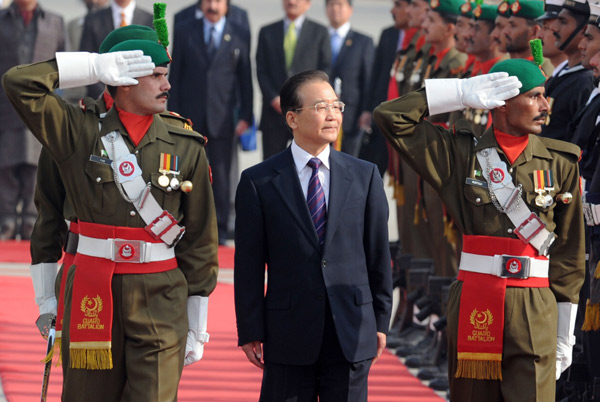 Premier Wen Jiabao (center) inspects a guard of honor during a welcome ceremony at Chaklala Airbase in Rawalpindi on Friday, the first day of his visit to Pakistan. [Aamir Qureshi / AFP]
It will also continue to support Pakistan's post-disaster reconstruction following the worst floods in the county's history, which hit one-fourth of the country in July and August, leading to huge losses in property and life.
China's aid has been highly praised, adding a new annotation to the long-standing friendship between the two countries.
China was one of the first countries to offer aid to Pakistan in the immediate aftermath of the floods in late July. The first batch of aid from the Chinese government reached Pakistan on Aug 4.
Social organizations, enterprises, individuals from China and the Chinese people in Pakistan have been assisting the Pakistani people by making donations either in cash or in kind.
Premier Wen Jiabao announced an additional $200 million of assistance to flooded Pakistan at a United Nations summit in New York on Sept 22, bringing China's total commitment to $250 million, its largest-ever humanitarian aid to a foreign country.
According to the report Damage and Need Assessment, prepared by the World Bank and the Asian Development Bank, the floods that swept across Pakistan caused an estimated $9.7 billion in damage to infrastructure, farms and homes, as well as other direct and indirect losses.
During the critical period, China responded to Pakistan's needs, providing unconditional aid to the country to help its flood rescue, relief and reconstruction efforts.
China sent two international search and rescue teams to the worst-hit Thatta district in southern Sindh province. The Chinese army also sent a 68-member medical team to the city of Sehwan in Sindh and a 64-member rescue team with four helicopters to Hyderabad.
The Chinese embassy in Islamabad said it was the largest deployment of Chinese rescue and medical teams in history and the first time Chinese military helicopters carried out an overseas humanitarian rescue and relief mission.
It was also the first time China sent a large amount of aid to its neighbor by land, with 101 Chinese trucks reaching Sust Dry Port via the Khunjerab Pass on Sept 1, loaded with daily necessities for the stranded people in the Hunza area of northern Pakistan.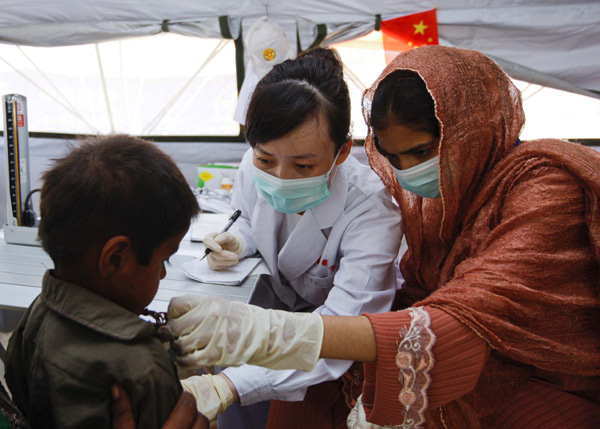 Li Jun (center), a Chinese aid worker and physician specializing in gastroenterology, diagnoses a child at a mobile hospital in flood-ravaged Thatta in southern Pakistan on Sept 21, a day before the traditional Chinese Mid-Autumn Festival. [Zhou Lei / Xinhua]
During their stay in Pakistan, the Chinese teams braved difficult conditions to treat hundreds of patients every day.
"Pakistan suffered devastating floods this year. The Chinese people sympathized with the Pakistani people and provided substantial aid as soon as possible to help the disaster relief efforts and reconstruction," Chinese Assistant Foreign Minister Hu Zhengyue said on Monday during a press briefing ahead of Wen's visit to Pakistan from Dec 17 to 19.
The helping hand from China was highly acclaimed by the Pakistani government and military, as well as local residents. A string of senior figures, including Tariq Majid, then chairman of the Joint Chiefs of Staff Committee, visited Chinese aid workers and lauded their selfless and efficient efforts.
The team's timely help "reflects the strong friendship between Pakistan and China", Majid said during a visit to a mobile hospital.
Pakistani President Asif Ali Zardari repeatedly said how much Pakistan appreciated China's flood aid, adding that China had always been concerned and focused on helping Pakistan through difficult times in a constructive manner. He hoped China would help rebuild the infrastructure in the flood-ravaged areas.
The first phase of the emergency aid is now drawing to an end in Pakistan and reconstruction is gradually taking place.
China will continue to support Pakistan's reconstruction, especially in agriculture and transport infrastructure, officials in Beijing said on Monday.
As old neighbors, China and Pakistan help each other in times of difficulty. Pakistan immediately provided aid when an earthquake struck Yushu county in Northwest China's Qinghai province in April.
Xinhua