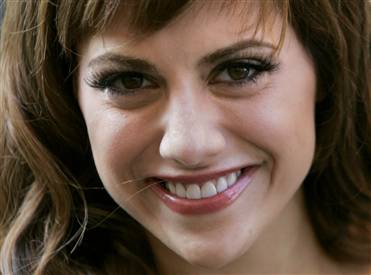 Brittany Murphy, the actress who got her start in the sleeper hit "Clueless" and rose to stardom in "8 Mile," died Sunday in Los Angeles. She was 32 . [Agencies]
An official with the Los Angeles coroner's office says actress Brittany Murphy, 32, may have died of natural causes, msnbc reports.
The actress, who got her start in the sleeper hit "Clueless" and rose to stardom in "8 Mile," died Sunday in Los Angeles.
Assistant Chief Coroner Ed Winter says the cause of Murphy's death "appears to be natural."
He says Murphy apparently collapsed in the bathroom Sunday morning, and authorities are looking into her medical history.
Winter says Murphy's family is cooperating with the coroner's investigation. He says an autopsy is planned for Monday or Tuesday.
The Los Angeles Times reported that police said Murphy died of cardiac arrest.
The Los Angeles Fire Department responded to a call at 8 a.m. Sunday at the home Murphy shared with her husband, British screenwriter Simon Monjack, in West Hollywood hills. Murphy was transported to the hospital, where she was pronounced dead.
Neighbor Clare Staples said she saw firefighters working to resuscitate the actress Sunday morning. She said Murphy was on a stretcher and "looked as though she was dead at the scene."
Murphy's husband, wearing pajama bottoms and no shoes, appeared "dazed" as firefighters tried to save her, Staples said.
"It's just tragic," she said.
TMZ.com first reported Murphy's death Sunday morning.
Murphy's father, Angelo Bertolotti, said he learned of her death from his son, the actress's brother, and was stunned.
"She was just an absolute doll since she was born," Bertolotti said from his Florida home. "Her personality was always outward. Everybody loved her — people that made movies with her, people on a cruise — they all loved her. She was just a regular gal."
He said he hadn't heard much about the circumstances of Murphy's death. Bertolotti divorced her mother when Murphy was young and hadn't seen Murphy in the past few years.
"She was just talented," he said. "And I loved her very much."
Bertolotti served prison time on federal drug charges.
'8 Mile' role sparked her success Born Nov. 10, 1977, in Atlanta, Murphy grew up in New Jersey and later moved with her mother to Los Angeles to pursue acting.
Her career started in the early 1990s with small roles in television series, commercials and movies. She is best known for parts in "Girl, Interrupted," "Clueless" and "8 Mile."
Her role as rapper Eminem's girlfriend in the film "8 Mile" led to more recognition, Murphy told The Associated Press in 2003. "That changed a lot," she said. "That was the difference between people knowing my first and last name as opposed to not."