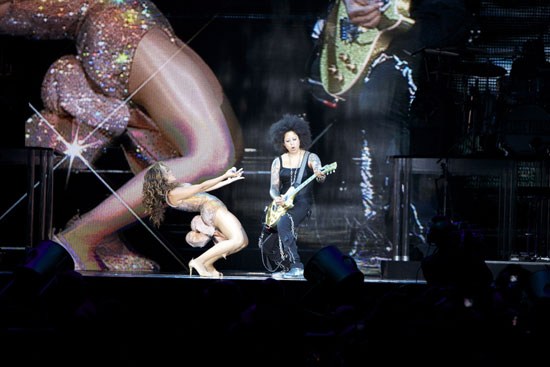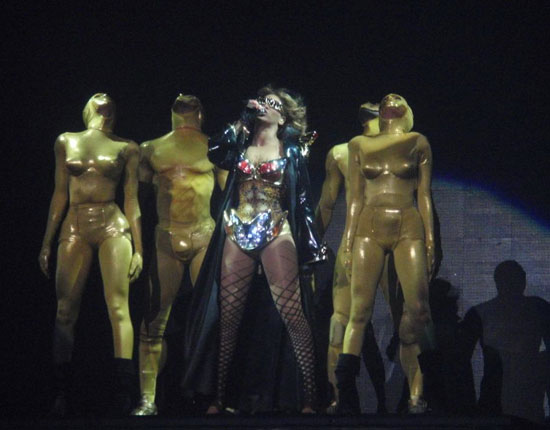 For her I AM… collection, Beyoncé collaborated with some "writers and producers that I normally hadn't worked with" including producer Toby Gad on "If I Were A Boy" and UK songwriter Amanda Ghost on "Disappear," which reminds Beyoncé "of the Beatles a tad bit," "Satellites" and "Ave Maria," in which Beyoncé re-imagines a classic aria in a new and original musical setting. "When I knew that certain things I wanted to say, I couldn't say myself, I invited other writers to come in," she says. "Lyrically, it's the best album I've ever had. If a song didn't say anything or mean anything to me, I didn't put it on the record."
According to Beyoncé, "SASHA FIERCE is kind of the opposite, she's more the other side because sometimes you don't want to think; sometimes you just want to feel good. She's the party girl, she's Bootylicious. She is but I'm not. She's my alter ego. I'm finally revealing who I am."
The lead-in track on the SASHA FIERCE disc is "Single Ladies (Put A Ring On It)," Beyoncé's scorching anthem of personal empowerment. "That song is all about: 'I've been with you all this time, you're taking too long and now I'm looking hot and you see it and you gotta suffer because you shoulda put a ring on it,'" Beyoncé explains. "In my life, when I put on the stilettos, it's all about being confident, sometimes overly confident, and hearing all the things that women need to hear to boost themselves and go out and to move on."
"SASHA FIERCE is fun. There's an up-tempo song called 'Radio' that basically talks about my childhood. It just seems like a feel-good record but when you really listen to the lyrics, it's about me growing up. In my household, I didn't go to all of the parties and I didn't do all the things that a lot of the other teenage girls did because I was so in love with my radio and my music. I was so in love with this radio and my parents were happy that I was into something positive. I try to make up-tempo records that feel good but underneath they're still saying something. SASHA FIERCE is a collection of the kinds of songs that I'm usually known for and I love just as much as the more intimate side of me."
Songs on Beyoncé's I AM… include "If I Were A Boy," "Halo," "Disappear," "Broken Hearted Girl," "Ave Maria," and "Satellites." Beyoncé's SASHA FIERCE records include "Single Ladies (Put A Ring On It)," "Radio," "Diva," "Sweet Dreams," and "Video Phone."
Producers and writers collaborating with Beyoncé on I AM… SASHA FIERCE include Kenneth "Babyface" Edmonds, Stargate, C. "Tricky" Stewart & Terius "The Dream" Nash, Rodney "DarkChild" Jerkins, Sean "The Pen" Garrett, Solange, Jim Jonsin, Rico Love and Ryan Tedder.
I AM… SASHA FIERCE is Executive Produced by Beyoncé Knowles and Mathew Knowles for Music World Productions, Inc.